In Anticipation of Servant Stage Company's Production of 'The Marvelous Wonderettes'
By Steven Brodsky
A nostalgic jukebox musical, a proven audience-pleaser, The Marvelous Wonderettes, will be the next stage offering by Servant Stage Company. The play starts off in 1958 at a high school prom. A group of song leaders are center focus. They entertain the prom attendees with performances of pop tunes. The roster of songs performed in this play includes some of the favorites of the '50s and '60s. This is family-friendly fare.
The upcoming presentation of this play by Servant Stage, comes on the heels of good news for a company that is true to its mission.—Its audience continues to grow. In the last 12 months, the company has presented over 120 performances; more than 30,000 people were in attendance. I contacted Johnathan Bauer, Executive Director of Servant Stage, and asked, "What does this good news means for the company and the region it serves? Johnathan said: "It's exciting and fulfilling to know that the news about Servant Stage is spreading! Last year, we had set a goal to reach 25,000 audience members, so we were blown away to have over 31,000 audience members attend our performances (a 72 percent increase from 2016)! It's our goal to make these exceptional shows accessible to everyone (especially to people who might not otherwise have access for physical or financial reasons), so we're thrilled to see such large audiences at each production. It means we're achieving our mission, and we don't expect to see things slow down anytime soon! Honestly, this still feels like just the beginning for us, as we have so many more big plans for the future—continuing to expand our education programs, commissioning more original works, being able to offer more larger scale productions—just to name a few things!" (A prior interview with Johnathan is currently accessible on this page. Scroll down to read it.)
Wally Calderon is Artistic Director of Servant Stage Company. Wally was interviewed for this column this week. Here is that interview.:
What is the rehearsal process like for The Marvelous Wonderettes?
So far, this process has been incredible. We have two different casts, but they rehearse together which can be a challenge making sure everyone gets what they need and the repetitions needed. But, because it's a small cast, as I am blocking and watching the numbers, both casts are performing them at the same time side by side. It's just unique. Because these ladies are so talented and fast, we have been plowing through the material. I believe after the first four rehearsals they learned almost all of the act 1 material which is impressive. And finally, the process has been hilarious. It's every director's dream to work with performers who "go for it," and these ladies are so funny and talented, bringing a lot to the table.
What particular production work goes into staging this musical?
With any show, a tremendous amount of work goes into making what the audience sees look easy. And there is always months and months of preparations even before the first rehearsal. This being a pre-existing show, one which we did not write but rather licensed, we had to obtain the rights/permission to perform it. Once granted, we began to research the show to help determine our venue, our set, costumes, props, etc. With musicals like this, we often need to go with a larger set or more elements like lighting to pull off what the script calls for. One example in this show is that one of the girls is in love with the lighting guy who flickers the lights when she sings, so obviously we felt the need to incorporate at least minimal lighting into the show budget. Our production team has been working on this show for months now, and it's exciting to see the elements start coming together.
What can you tell us about the cast?
Again, they are simply hilarious, hard-working, professional, and incredibly talented. They are brought into the show and all of the crazy ideas I may have. They study their counterparts (because it's double cast) and take risks. They are just great people, which makes the process never feel like work. We spend most of our time together laughing. They are also VERY quick, so by the time our first show comes, they will bring the show to life beautifully!
Are the costumes created in-house?
Ric Zimmerman is our costume designer for the show, so we know the costumes will be amazing. He is well-known in Lancaster, and we have had the privilege of having him design several of our past shows including Little Women and Sing, Sing, Swing. I know he loves the style of the show, so there was no question in my mind I wanted him. I think I asked him over 6 months ago knowing he would be great. So he will be designing (and building some) 16 costumes, two for each girl.
How do you think your audiences will respond to the various aspects of the musical?  
It's the 1950s and 1960s, the music just makes people happy! So the girls could simply stand and sing the songs and our audiences would love it. BUT, the script surrounds the amazing music with so much humor, heart, and memories which engages the audience even more.
Which songs are your personal favorites, and why?
There is no way I can pick one or even several, I know cheesy answer, but honestly every time the next song starts, I get excited to see/hear it as much as the one before. Every song has a story, and the ladies bring something great to each and every one of them.
Songs in the Servant Stage Company production of this musical include: "Welcome" / "Mr. Sandman," "Lollipop" / "Sugartime," "Allegheny Moon," "All I Have to Do Is Dream" / "Dream Lover," "Stupid Cupid," "Lipstick on Your Collar," "Lucky Lips," "Secret Love," "Mr. Lee," / "Born Too Late," "Sincerely" / "Goodnight, Sweetheart, Goodnight," "Hold Me, Thrill Me, Kiss Me," "Welcome Back" / "Heat Wave," "It's In His Kiss," "Wedding Bell Blues," "You Don't Own Me," "With This Ring," "I Only Want to Be With You," "That's When the Tears Start," "It's My Party," "Son of a Preacher Man," "Leader of the Pack," "Maybe," "Maybe I Know," "Needle In a Haystack," "Rescue Me," "Respect," "Thank You and Goodnight," / "Sincerely."
Servant Stage Company performances are pay-what-you-will. Information about ordering tickets is available at: www.ServantStageCompany.com.
Posted Jan. 19, 2018
In Anticipation of the People's Light Production of  'Mornings at Seven'
By Steven Brodsky
'Mornings at Seven' By Paul Osborn • Directed by Abigail Adams • January 10 – February 4, 2018, Steinbright Stage
"You ask yourself: Where am I? Where am I in life? What's the meaning of it?" These words are spoken by David, a character in the 1939 comedy, Mornings at Seven. David speaks them to fellow character, Carl (and, by extension, to each of us). Context, though, is important here: the script for this play has an inherent buoyancy. When best executed, charm and levity keep the issues underlying David's words from coming down on audiences in an oppressive manner. And people appreciate that Osborn's light-handed approach doesn't come at the expense of meaningful observations about family relationships and personal identity.—Revivals of this classic have received Tony Awards. It's a fine choice for People's Light to start off 2018. With the fine assemblage of talent, audiences should be in for a treat.
Abigail Adams is quoted in a People's Light press release. She says, "The cast of Mornings at Seven comprises nine actors, all of whom have deep connections to People's Light. They've played each other's wives, husbands, parents, brothers, sisters, in-laws, children, friends, neighbors, colleagues, and enemies over decades. After working together so many times they know how each other thinks. And in each other's company, they become vulnerable, brave, and often hilarious. These connections shape this production. Mornings at Seven tells the story of an aging, tightly-knit family whose members struggle with roads not taken and their complicated love for one another. Given our long histories, it's pretty close to the bone for those of us working on it."
The People's Light cast of Mornings at Seven is comprised of: Carla Belver as Esther Crampton, Alda Cortese as Ida Bolton, Janis Dardaris as Aaronetta Gibbs, Peter DeLaurier as Theodore Swanson, Teri Lamm as Myrtle Brown, Stephen Novelli as Carl Bolton, Pete Pryor as Homer Bolton, Marcia Saunders as Cora Swanson, and Graham Smith as David Crampton.
Happy New Year to the cast and production team, and to the readers of Entertainment, Culture and More.
Further information about the People's Light production of Mornings at Seven is at: www.peopleslight.org.
Posted January 5, 2018
On the Occasion of the CD/DVD Release of 'The Life & Songs of Kris Kristofferson'
By Steven Brodsky
The tribute concert to Kris Kristofferson on this CD/DVD had its broadcast premiere on CMT. If you watched the concert on CMT, you know how special this event at Bridgestone Arena on March 16, 2016 was. With this release, you can experience the concert, interviews, and additional footage, at times of your choosing, for years to come. The DVD has a run time of 90 minutes.
You'll likely find some of your favorite artists among the roster of performers on The Life & Songs of Kris Kristofferson. There's Kris Kristofferson, of course.—He takes to the stage for three songs. Willie Nelson, Eric Church, Emmylou Harris, Reba McEntire, Jamey Johnson, and others sing the songs of a most remarkable songwriter. With almost no exceptions, I find the pairings of songs with their covering artists to be most excellent. All of the performances are outstanding.
Which Kris Kristofferson songs do you cherish the most? Some or all of them are most likely on the set list. I checked in with Carl Goldstein, host of the Fire on the Mountain radio show. Carl has hosted the show for 40 years on WVUD. Carl told me that some of his favorite Kristofferson songs are: "Help Me Make It Through The Night," "Loving Her Was Easier (Than Anything I'll Ever Do Again)," "Sunday Mornin' Comin' Down." (Mine as well.) They're on the set list.
What makes the songs especially appealing to Carl? "…Kris's marriage of lyrics and melody. The melodies are so stately and striking it is remarkable that the lyric always complements the tune," Carl replied.
Carl recalled the first time hearing one of them, "Sunday Mornin' Comin' Down." He thinks it was on Johnny Cash's television show with Cash performing it. Carl said, "…it really jolted me hearing it live." Carl spoke of the impact of that song encounter: "Recalling the desperate nature of that lyric and that powerful melody left an image in my mind that really stayed with me. Still does."
When Carl debuted "Sunday Mornin' Comin' Down" on "Fire on the Mountain," he informed listeners about the now famous historical moment when Cash stood up to network censors. Carl said, "I recall relating the story on air of how CBS tried to censor Cash's use of the word 'stoned' on 'Sunday Mornin' Comin' Down.' They wanted him to substitute 'home.' That would seriously change the entire impact of the song. Cash allegedly agreed verbally and then when on stage live, looked straight at Kris in the audience and bellowed out 'stoned' clear as a bell. I've told that story on air several times and I always get calls about what a great story that is." (An interview with Carl Goldstein from May 2017 is currently available on this page. Scroll down to read it.)
Many of you know singer-songwriter, John Flynn. John was raised in Delaware County, PA and is much admired by his fans, including Kris Kristofferson. Knowing of his association with Kris, I asked some questions to John about it. John responded with: "I first met Kris backstage at the Grand Opera House in Wilmington, Delaware back in the '80s. Billy Swan introduced me. Billy had just charted with a song I wrote and had invited me to the show. Other than a couple handshakes, the first real conversation I had with him took place over the phone when I was asked to interview him for a magazine called Songwriters Monthly. Not long after that he was kind enough to write liner notes for a CD I was coming out with. His kids were very young at the time and became fans of my family recordings. Kris was always very supportive of my songwriting, and became one of my strongest advocates. His manager, Vernon White, even contacted me about appearing on the David Letterman Show after 9/11 and Kris sent him my song 'I Will Not Fear.' Vern told my manager, Biff Kennedy, that Kris had offered to fly from Hawaii to New York to do the show and sing backup for me as an added inducement to get Mr. Letterman to book me. Tragically Vernon died of a heart attack a day or so after offering to set this up. For me, Kris's music has always represented an almost ideal merging of pure gift and heart. His talent as a writer has always been staggering to me, but his infusion of these abilities with empathy and concern for the marginalized became a touchstone for me. His album Third World Warrior came along just as I was beginning to wrestle with the idea of addressing social and political issues in my own songs. Kris's courage in speaking out against what our country was doing in Central America back in the eighties really inspired me to begin paying attention to what our leaders were actually doing, and came along as I was just beginning to discover and delve into artists like Woody and Phil Ochs. Kris's absolute devotion to the idea and implications of freedom, its blessings and its responsibilities, really spoke to and challenged me. Other than sharing my music, singing on my CDs, inviting me to perform with him and generally spreading my name around whenever they could (I was knocked out to find him touting me in a TV Guide interview some years back) Kris and his wife Lisa have been a constant source of encouragement in the face of the music business's general withering disregard and apathy for what I've been up to. Whenever I questioned my own calling—they seemed to be there to pick me up by reminding me what a gift it is to do what I do. One of the greatest compliments I ever received was backstage in Oklahoma a few years ago when Kris took me aside and said, 'I'm proud of you. You lived up to it!' His words meant more to me than any gold-plated award!"
John Flynn will be performing his annual benefit holiday concert for Camp Dreamcatcher at Sellersville Theater on December 13, 2017: John Flynn & Friends. Information on this and other upcoming concerts is at: www.johnflynn.net.
Songs and performers on The Life & Songs of Kris Kristofferson CD/DVD:
"Please Don't Tell Me How The Story Ends" – Buddy Miller
"Here Comes That Rainbow Again" – Martina McBride
"The Taker" – Ryan Bingham
"The Captive" – Jessi Colter
"Nobody Wins" – Lee Ann Womack
"Jesus Was A Capricorn" (Owed to John Prine) – Jack Ingram
"Worth Fighting For" – Jennifer Nettles
"Loving Her Was Easier (Than Anything I'll Ever Do Again)" – Rosanne Cash
"Chase The Feeling" – Emmylou Harris and Rodney Crowell
"The Pilgrim: Chapter 33" – Emmylou Harris and Kris Kristofferson
"From the Bottle to the Bottom" – Dierks Bentley and The Travelin' McCourys
"Help Me Make It Through The Night" – Lady Antebellum
"Under The Gun" – Darius Rucker
"For The Good Times" – Jamey Johnson and Alison Krauss
"Casey's Last Ride" – Alison Krauss
"If You Don't Like Hank Williams" – Hank Williams Jr.
"To Beat The Devil" – Eric Church
"Me And Bobby McGee" – Reba McEntire
"Living Legend" – Willie Nelson
"Sunday Mornin' Comin' Down" – Willie Nelson and Kris Kristofferson
"Why Me" – Kris Kristofferson (Backed By Full Ensemble)
Posted Dec. 10, 2017
Toby Walker on Video
Readers of this column have free access to video of a performance and presentation that Toby Walker gave at the Minstrel in Morristown, NJ titled How I Got The Blues. We don't know how long this video will be accessible. An interview with Toby is currently on this page. Scroll down for the interview. To watch the video, go to:
http://www.littletobywalker.com/concert.html .
Our thanks to Toby. Enjoy How I Got The Blues. Happy Thanksgiving.
Posted Nov. 20, 2017
A Conversation With Adriana Trigiani
By Steven Brodsky
Adriana Trigiani is a New York Times bestselling author. Her books have been published in thirty-six countries. Among her titles are: The Shoemaker's Wife, All the Stars in the Heavens, Big Stone Gap, Lucia, Lucia, and the memoir Don't Sing at the Table. She's written for television, the stage, and wrote (and directed) the movie Big Stone Gap. Kiss Carlo is Adriana's seventeenth novel.
You are very much identified with the category of women's fiction. When you first started book writing, did you envision that your creative output was going to especially appeal to female readers as it has?  
I hoped it would, and I crossed my fingers and aimed for it. You see, in my estimation, women need a respite and reprieve in this weary world, a place to go in their imaginations in ways that men do not.  We need the lush worlds of fiction and the lessons of novelists to encourage us to examine our own lives and choices, artfully, spiritually, and in solitude- in peace and quiet- subject to reader. So, I'm thrilled to be considered a contributor to the genre called women's fiction.
What percentage of your readers is female? 
Probably most.
Very much enjoyed Kiss Carlo. There's beauty in the story and its telling—sufficient to satisfy most female and male readers.  
Thank you.  The central character in Kiss Carlo is Nicky Castone, home from the war, back driving a cab in South Philly, engaged to Peachy DePino, and terrified that he is making all the wrong choices with his life.  I began with the intention of writing a novel about how Nicky was mothered by every woman in his life- and it turned out to be a novel about seeking your bliss. Though, I'm sure, as you're reading, you see the narrative ribbon of maternal pride, control and love through Hortense, Aunt Jo, Mamie and Peachy. It's all there. And if men choose to pick it up- they'll find a feast of meaning.
 (Have Charles Bukowski's poem "Bluebird" in mind in pleading the Fifth about whether this interviewer had tears in his eyes upon reading one or two book scenes involving Kiss Carlo character Mrs. Hortense Mooney.) This novel is historical fiction, opening in 1949. South Philadelphia and Roseto, Pennsylvania are major locales. Italian-American life in those communities, as it was in the '40s and '50s, comes alive in its pages. The book is rich in references, specific and accurate. Adriana, what research did you do?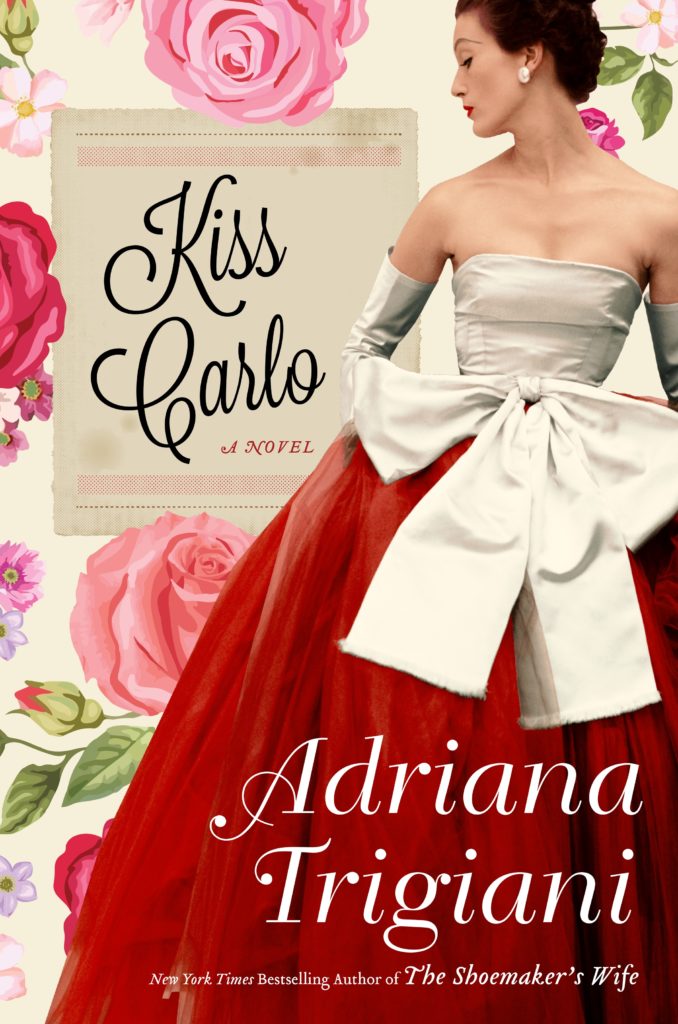 I am a devoted and thorough reader when I do research- I also seek out folks who were alive during the period which I am living in (imaginatively of course).  I find the combination of studying autobiographies of the period, culture, fashion, style, politics and religion of the time are inspiring and helpful.  I walk in the steps of the characters, which spiritually gives me something tangible to feel, which leads me to feeling that there is something to do, which in turn makes me feel that I am there, in that world in 1949.  For someone who wouldn't know a Pontiac from a Ford in real life, I become a car nut when I'm writing fiction.  I get heavily invested in cars. In terms of fashion, I become obsessed with a particular article of clothing- in Kiss Carlo, it was hats for women and for men.  But, once I've had my fill of facts and stories and photographs, I put everything aside and let the characters take me into the world of their lives, and it's as real to me as the one I'm living in at this moment. That's the magic of writing novels, if there is any pixie dust at all to this process.
I really imbed in the locations of my books. Roseto, Pennsylvania and Roseto Valfortore, Italy are places of origin for my father's father and my dad, and his family and for me- so I am eager to write about places I know intimately.  South Philly is a bouquet of memories- as we had cousins who lived there, and as children, my parents brought us there- so it was a glamorous place to me, exotic.  My grandfather's life resonated in this story, in ways that I can't even calculate- I did a lot of holding his pipes and inhaling the scents of his Blackjack tobacco, not much left in the pouch, but enough to inspire me to press ahead.
Oh, and I'm thrilled you had a few tears while reading. It's what I hope will happen- that you are moved emotionally while reading my books- that's the highest compliment you can pay me.
The work and challenges of a fictional South Philadelphia Shakespeare-producing theater are depicted in Kiss Carlo. I imagine that writing about theater in this novel, had much personal resonance for you given your earlier involvement with theater and your continuing experience as a literary artist. If so, please tell us about it.  
Well, I began as a playwright, and imagine I will always be one.  The world of the theater is one of my favorites to write about, as I know it intimately, and am at home there. The theater holds two important things for me- its familiarity and its possibility. I am at home in any theater. A blank space is heavenly to me. The possibilities, which come in the process, are endless and surprising. I bring the theater, the discipline of it, to every aspect of my life and work.  When I write novels, I am longing to be in the theater, but I use the tools I learned there in the novels- hopefully giving my reader a sense of scope, with lush stage pictures and good dialogue to keep them dazzled by the storytelling. That's my hope.
Of the characters in Kiss Carlo, which do you most identify with?
All of them.
Why?
I have to understand what motivates every character so each one feels alive, on a journey and indispensable. Each character must be built from the soul outward.  I see them and hear them each in their own voice, with their own particularity.  Each character has to be completely new, I believe that's one of the reasons that readers continue to pick up my books.  I aim to keep things fresh.
You've been publishing a book a year since your first novel was released. Has this routine unfolded organically? If not, what drives it? How do you manage to be so creatively prolific?
I believe there are no limits to the power of the imagination. The hardest aspect is the sitting for hours on end- but I have learned to counter that with physical movement, which helps.  I am prolific because I don't know how much time I have.  Fear drives me, Steven.  Fear has always driven me, and I imagine, when I get to the end, it will evermore.  I am working on not being afraid of dying. Both of my parents were resplendent in the transition from life to death, so I have my work cut out for me!
You are in the midst of a book tour for Kiss Carlo. Do you write while touring?
I write poetry while touring. I work in other forms when I'm on the road. I meet old and new friends and it's a wonderful mix of visiting the past and living in the present which makes me want to come up with beautiful ways to write about them and the experiences of the road, so I do it in verse. Now, I'm not saying this poetry is any good, but it is writing!
What are optimal writing conditions for you? 
Quiet. Solitude. Good tools. Pens. Legal pads. Notebooks. I'm surrounded by books.  I have a big table. Bright sunlight. My office.  Bliss!
What is your writing schedule like and how disciplined are you in keeping to it? 
I'm very disciplined. I let fear dictate my schedule- I keep to my contracts, which I use as my own checks and balance system. I have to work seven days a week.  The heft of the hours is during the week- usually a full 8 hour workday. Weekends- lighter but I read and re-read and edit. 
 What stimulates your creativity?
I want to describe everything to my reader- people, the soup a character eats, the patina of the fabric on the chair upon which she sits, the scent in the air- so life really stimulates my creativity. But so does sleep- and my dreams, and the longing of what never can be, never will be, but must live somewhere, so it winds up in my books because it has to- because it is on fire within my imagination fuels my storytelling, therefore my creativity.  When I write, a character can sweep me into a time and place where life is lush, or perhaps awful, but I am there, and that grows my imagination in ways I can't explain, but dictates my desire to keep at it, to get better, to write more in order to connect more deeply with the reader.
Does the writing process sometimes intrude while you are engaged in social and other non-solitary activities? 
Any writer will tell you, you can never turn it off. The work plays like a tune in your head, all day and all night.  I can be walking around and something in the moment will trigger an idea, and suddenly, I'm off.  My husband recognizes "the signs."  I talk to myself sometimes. I tap my fingers as if it's Morse Code for later, when I can record an idea on paper. It sounds intrusive, but I've been this way all of my life- there's the world in front of me, and the world inside me- and they co-exist until one takes precedence over the other, but they are always operating in tandem.
Some writers feel that discussing works in progress dissipates creative energy. Do you feel that way?
Sometimes.  I don't talk about works in progress much because when I have, they never end up to be what I've shared- and then it becomes, whatever happened to- and that's just annoying.
What can you tell us about your current writing project?
It's a big epic about two people who find each other and try to make a life together. 
What supports you emotionally in your work as a writer? 
I consider my work as a writer a job of service.  I'm here to make readers laugh and cry and connect.  I'm not interested in writing books that amuse me, but reach her, the person who picks one of my books up and is looking to be transported from this reality to another one. I want her to immerse herself in a story waiting that will hopefully enchant, amuse, delight and lift her out of her responsibilities, grief and disappointments and into a place and time that has nothing to do with this weary world.  So, I guess, I am emotionally supported by my reader, who needs me to give her a good book to read.
How satisfying is your writing life? 
I am so very blessed and so very, very lucky. I never dread my job- I go to it with all I've got, still as eager today as I was the first time I wrote a story when I was 11.  I like the process. It's not easy, but I'm not one for ease, I prefer a challenge.  Writing has fed my intellect, grown my imagination and fueled my faith. I have no complaints about it- not one.
 Do you have any regrets about being a writer? 
The sitting is tough. But, I saw a commercial on TV where there's a desk that goes up and down and you can stand and write. I might try that gizmo.  But I don't have any regrets about writing other than the sitting.
What are some of the most gratifying things readers have said to you during the Kiss Carlo book tour? 
You've got me with this question. As much as I take delight in having made you weep a couple times while reading the book, I wish I could share what my readers give me- in terms of their own experiences and points of view and passion for life without weeping myself- but too late. I'm crying. I have a deep loyalty to my readers.  They've been with me nearly twenty years now, and it's an abiding relationship in my life- author and reader, that just grows ever deeper with each book. There's a shorthand and an honesty- when my reader doesn't like something, she is vocal about it. When she connects and loves something- she can't wait to tell me.  I have found more sisters on the road, more honorary aunts and grandmothers, muses and inspirations, angels and teachers through these books, than I could have ever dreamed of, or imagined.  They have given me everything, therefore I owe them everything.
My mother Ida Bonicelli Trigiani was a librarian, and she taught me to revere the written word, to respect authors, and honor the library. After she died, I realized that it was she that had planted this sense of wonder in me, not only about life, but about books and the people that read them. I had several tour stops after her death in August of 2017, two in fact, a few days after her funeral- in libraries.  Of course, they offered to cancel the events- but I needed to be with readers in the library- my friends, my girls- it was their strength and wisdom that pulled me through- and like good friends do, we laughed and remembered- they remembered their moms and I talked about mine, and we connected and connected and connected. And God willing and the creek don't rise, we always will.
 Information about Adriana Trigiani is available at: http://adrianatrigiani.com.
Posted Nov. 3, 2017
 In Anticipation of the World Premiere of 'Lights Out: Nat "King" Cole' at People's Light
October 11 – December 3, 2017
By Steven Brodsky
Nat King Cole ranks among the most acclaimed jazz and pop musicians of all time. Born as Nathaniel Adams Coles in Montgomery, Alabama in 1919, he would go on to achieve recording and concert performance success that was nearly unmatched by others of his generation. "Mona Lisa," "Unforgettable," "The Christmas Song," are among the nearly 700 songs that he recorded, with well over 100 songs making the charts. He was a prominent presence on national television shows (he appeared on the Ed Sullivan Show on six occasions). He hosted his own show, the Nat King Cole Show. Nat King Cole was the first African American to host a nationally broadcast show. It went on the air in 1956. He was ahead of his time. – The show was popular and attracted some of the most sought-after entertainers, but it could not secure a national sponsor (other than a few sponsors for brief periods of time before the show expanded from 15 minutes to a half hour). There were 30 sponsors with cooperative arrangements supporting the show across the country on local stations, but nationwide… not one.
The Nat King Cole Show ran for 64 weeks. In an essay in the February 1, 1958 issue of Ebony entitled "WHY I QUIT MY TV SHOW" by Nat King Cole (as told to Lerone Bennett Jr.), Mr. Cole says, "For 13 months, I was the Jackie Robinson of television… On my show rode the hopes and fears and dreams of millions of people." That statement is accurate. The essay is culturally and historically valuable. You can access it online with the right database. I'd encourage you to do so before or after attending the world premiere of Lights Out: Nat "King" Cole.
Lights Out, the People's Light season opener, is a song-rich encounter with Nat King Cole and a few of his contemporaries. The script is an enjoyable (though at times bittersweet or sad), thoughtful treatment of the dynamics of Nat King Cole, the artist and man.
Nat King Cole paved the way for others in a time that wasn't fully ready. – "Madison Avenue is afraid of the dark," said Mr. Cole in reference to the inability of the network to secure a national sponsor. Thankfully, most of the audience members for Lights Out are at a time and place in their lives to really appreciate what the playwrights, cast, director, musicians and others will bring to this People's Light production.
Information about Lights Out: Nat "King" Cole is available at: www.peopleslight.org.
Posted Oct. 11, 2017
A Conversation With Johnathan Bauer, Executive Director of Servant Stage Company
By Steven Brodsky
Servant Stage Company does what it set out to do. That's why it has achieved remarkable success and continues to grow as an important component in our region's cultural scene. Staying true to its mission statement has resulted in a mutual embrace of Servant Stage and the community.
The company had its unofficial beginning in 2011. It was started by Johnathan Bauer and his wife, Rebecca. Two years later, Servant Stage was incorporated as a not-for-profit organization.
Over 20,000 people attended more than 100 "pay-what-you-will" performances last year. Johnathan Bauer is Executive Director of Servant Stage Company.
Johnathan, you are originally from Maine and moved to Lancaster County, PA in 2008. What went into your decision to relocate to the area?
I was working as a singer/actor at the time and was offered a job with Sight & Sound Theatres. I worked as a performer there for 3 years and during that time my wife and I fell in love with the area and decided we wanted to stay here for good!
What do you most enjoy about the region?
Coming from a beautiful rural setting in Maine, I love that it's also peaceful and quiet here with a natural beauty and yet there's also so much to do with a bustling arts scene and so many wonderful theatres in the region! It's a great place to raise a family!
Tell us about some of the work you've done at Sight & Sound Theatres and elsewhere in the area.
I performed in Joseph, Miracle of Christmas, In the Beginning, and Behold the Lamb at Sight & Sound, and I currently serve as the music and vocal coach there. I've also performed, directed, or music directed at many of the other theatres in this region.
What prompted and encouraged your interest in performance? (Johnathan has a degree in vocal performance from the University of Southern Maine.)
I've loved the performance arts for as long as I can remember and grew up performing in plays at school and church and community theaters. I love the power of storytelling and the way that live theatre is able to inspire, educate, challenge, and entertain.
How did the idea for Servant Stage come about?
Having grown up in theatre, I saw firsthand what a positive impact it can have on a community, across all ages and social situations. But working in the arts, I came to realize that there are so many people in our community that don't have access to great professional theatre. The goal was to create an organization that would truly serve everyone in our community. Also, we wanted to create an environment where performers would be valued and have a place to develop their talents and give back to our community.
How confident were you that Servant Stage would be able to fulfill its mission?
I was very confident that there was a great need for it, and that we would be able to do this well, but I did not fully anticipate how quickly things would take off!
Of the Servant Stage productions to date, which scenes and stage moments are most memorable to you?
Each show is full of so many wonderful moments, but all are so different from each other. Part of the beauty of live theatre is the ability it has to move us in so many ways. In our most recent production of the comedic adaptation of Around the World in 80 Days, it was very refreshing and fun to just relax and laugh for 2 straight hours. After the show, an audience member came up to us and said, "This was just like The Civil War." We were confused for a moment, as our earlier production of The Civil War was a very stirring and poignant production, but she went on to explain. "I cried the whole way through that one, and laughed the whole way through this one, so either way I was getting endorphins."
What were some of the most special moments of audience engagement with the productions and cast members? 
Audience engagement is such a big part of what we do, so there are so many stories! One particularly moving story, was at one of our touring performances we took to a nursing home. There was a lady there in a wheelchair with her family, and we could see she was especially enjoying the show and singing along on songs. After the show several of the performers had a chance to talk to the lady and she told them how much she enjoyed the show. Then we found out from her family afterward, that the reason they were there is because she had been on her deathbed for several days. She had been catatonic and unresponsive, but the wonderful power of music and live theatre was able to stir something inside of her.
No point asking you about the 2018 season lineup before Servant Stage's 2018 Season Preview & Fundraiser on Sunday evening, October 15, 2017. — It'll be revealed at this event. Tell us about Servant Stage's Old-Time Gospel Radio Christmas. (This production will be staged at dozens of locations during November and December, 2017.)
The Old-Time Gospel Radio Show is a concept that we came up with back in 2014 and it has become an audience favorite! It's a mix of great music, outstanding performers, and old-time radio comedy. It has a bit of a Prairie Home Companion feel. We're able to keep the same format, but plug in new songs and change the script around each year. However, this is the first time we have done the show with a Christmas twist, so we're very excited about that! It will feature lots of great Christmas music and over 50 featured performers. With 30 performances on our schedule, the performers will actually rotate between shows, so audiences could come and see the show several times and hear different music every time!
Prior productions of the Old-Time Gospel Radio Hour featured outstanding vocal and instrumental talent. Will some of the same performers be in the Old-Time Gospel Radio Christmas? How does Servant Stage attract such talented performers (for this and other productions)?
Yes, many of the same talented performers will be back again for this year's Old-Time Gospel Radio Christmas plus some amazing new performers as well! I think the heart and mission of Servant Stage attracts many of these wonderful performers, and they appreciate the chance to give back and serve our community. It's a wonderful environment to work with a team like that, and our mission as a company is not just to serve our audiences, but also to value and serve our casts and crews to the best of our abilities.
It's six years since Servant Stage was launched. Are you surprised at what has been accomplished during this relatively brief time?
Absolutely! We had a stretch of 4 straight years where our total audience size was doubling each year. As such a new company, it's incredible that we were able to reach 25,000 audience members in the past year! But I think it just goes to show the need that we're meeting in the community, and how appreciated this is. Everybody keeps coming back again and again for each new production and bringing more and more friends along with them each time! It's an honor to already be recognized as one of the region's best theaters after such a short time!
What should the public expect from Servant Stage going forward? 
Continue to expect bigger and better productions from us as we keep growing and the word gets out across the region. But no matter how big we get, our heart and mission to truly serve our community and make the arts accessible to everyone (especially people with physical or financial limitations) will stay the same!
From a recent Servant Stage program: "Servant Stage Company exists to serve our community with outstanding musical and theatrical experiences, make the arts accessible to all, especially those with financial or physical limitations, provide a creative outlet for artists in our community to develop and share their talents, create performances that inspire, educate, challenge, and entertain… and have fun while doing it!"
Information about Servant Stage Company and its productions is available at: www.ServantStageCompany.com.
Posted Oct. 1, 2017
A Conversation With Clay Eals, Author of 'Steve Goodman: Facing the Music'
By Steven Brodsky
Clay Eals' book Steve Goodman: Facing The Music, in an updated fourth printing, was released earlier this year by ECW Press. This impressive and massive work, 800 pages, originally published in 2007, is nothing short of awesome – drawing upon interviews with more than 1,100 sources. Among those are John Prine, Arlo Guthrie, Jimmy Buffett, Kris Kristofferson, Willie Nelson, Steve Martin, Bonnie Raitt, Jackson Browne, Emmylou Harris, Randy Newman, Judy Collins, Studs Terkel, Carly Simon, Rosanne Cash, Doc Watson, Paul Anka, Loudon Wainwright III, Pete Seeger, and Hillary Rodham Clinton.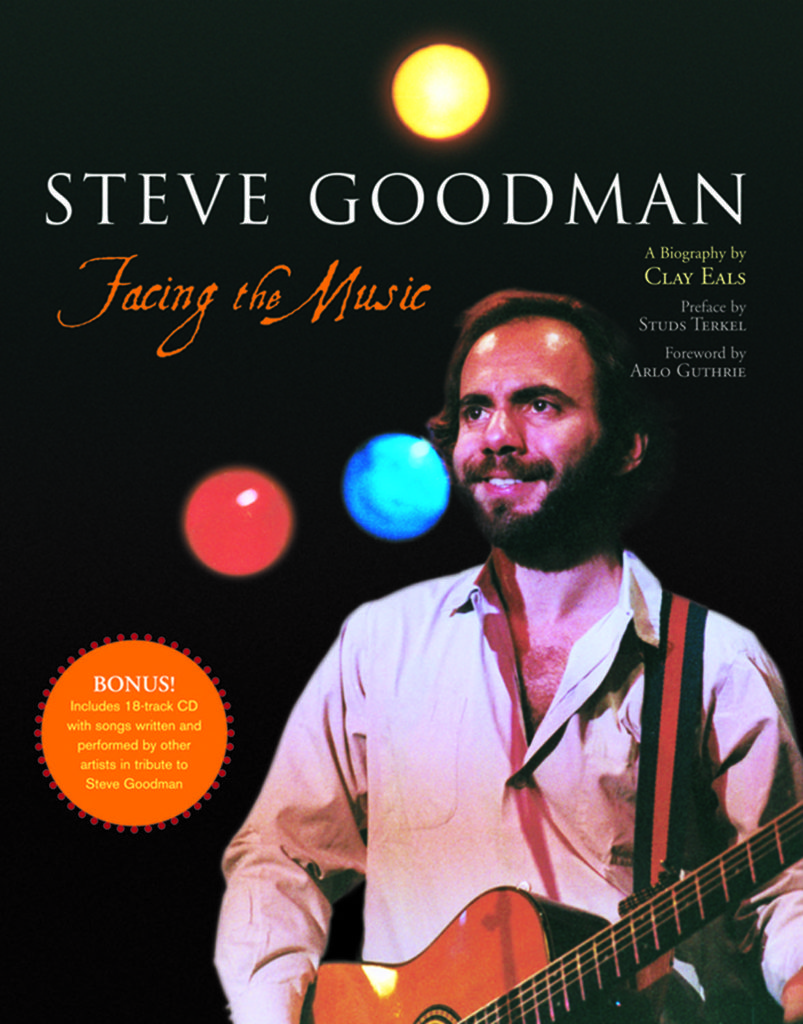 Clay interviewed Hillary Clinton about her memories of Steve Goodman. She and Steve knew each other in high school. Steve, Hillary Clinton said, "was someone you wanted to know." People still do; readers of Steve Goodman: Facing The Music get to know about his indomitable spirit, life and creative/performance output. Read this biography and you'll likely be very glad to have gotten to know Steve Goodman, who passed away in 1984. Most of you know his song "City of New Orleans," with its chorus of "Good Morning, America, how are ya?"
When and why did you first consider writing this book?
The seeds were sewn when Steve died. He underwent a last-ditch bone-marrow transplant and died at University of Washington Medical Center in September 1984. I was editor of the West Seattle Herald at the time, and I wrote a tribute/obituary on him for our chain's entertainment section. Later, in 1995-96, a deeply satisfying project – a biography I wrote and self-published on Karolyn Grimes (Zuzu in "It's a Wonderful Life") – let me cut my teeth on that genre.
I just felt that Goodman deserved a book, that it was a crying need. Why write the 50th book on Elvis? Publishers generally don't want us to know anything about anyone we don't already know about, because they think it won't sell. Fortunately, after I received 75 rejection letters from other publishers, ECW Press bucked the trend and not only took a chance on Goodman but also gave all of us the definitive book that he merited.
I also somehow came to understand – through themes specific to Steve but also with universal appeal – that I had to do this book before I myself died. So now I feel fortunate to have accomplished a mission singular to me.
How familiar were you with Goodman's "story" at that time?
I had all of Steve's albums, I had seen him in concert twice (in 1977 when he opened for Randy Newman and in a 1981 solo show, both times in Eugene, Oregon) and had sent tapes of his songs while courting my wife. Must have worked. We just celebrated 35 years of marriage.
Beyond Steve's recorded music and the two shows, my knowledge of his personal life was cursory. I did, however, perceive that an account of his life would shed valuable light on a musical underdog who, in spite of his peerless skills as an entertainer and visceral appeal to millions of fans, never became a household name.
Did you envision that your research would be nearly as exhaustive as it turned out to be?
Not at first. The project just grew naturally, fueled by the sentiments of those I interviewed who kept referring me to others, and I chased down all the leads I was given. There is irony in my having created an 800-page book about a man who lived just 36 years, but Steve was gregarious to a fault and had a galvanizing effect on everyone he encountered. It was tremendously gratifying that nearly all of those I could locate were eager to talk about him.
I also was driven by journalistic curiosity and motivated by the quest of putting together a book about someone who was not already the subject of a book. It was plowing new ground. It became clear to me early on that this likely would become the only biography of Steve. It was a one-shot deal, so I wanted to do it right, which, to me, meant a comprehensive approach.
Did writing Steve Goodman: Facing the Music emotionally affect you differently than what you've experienced in other writing projects?
Well, sure. My wife at times said she didn't know if the book constituted a mission or an obsession.
Certainly this project is more massive than any other I have undertaken. The fact that I could not talk with my biographical subject meant that I had to piece together the story from other sources, which included more than 1,000 clippings, some 250 concert tapes, more than 1,100 fresh interviews, in person, on the phone and even via e-mail, and the research help of another 1,110 people – and all of these folks are listed in the acknowledgments.
The project ended up taking eight years, and with each step toward completion I realized anew that I was living the life lesson of Steve himself – that we are not meant to be hermits, that whatever you believe about how or why we got here, we are meant to connect with, engage and inspire others.
We all know the cliché that a product is no good without a good process. Well, in the process of creating this book, I was fortunate to make many wonderful new friends, even some who died before the book was published. I cherish memories of the times I spent with people on this project – including 65 post-publication reading/music events – in all corners of the country and everywhere in between. The kindness that I experienced from countless people associated with the project brings tears to my eyes to this day. In fact, I likely have plentiful grist for an affecting "making of" book.
Very fine writing supported by meticulous research fill the pages of the book. (It's as large as a major city's phone directory.) What were some of the major challenges you faced in completing it?
Thanks for the compliments. On the surface, the biggest challenge was access to Steve's family. From the beginning, I had the participation of Steve's oldest daughter, Jessie (who died in 2012), as well as a dozen other more distant family members. But for six years Steve's manager, Al Bunetta, would not agree to an interview, and several key family members — Steve's mom, Minnette (who died in 2012); Steve's widow, Nancy (now remarried for 25-plus years); Steve's brother, David; and Steve's younger daughters, Sarah and Rosanna — never did allow themselves to be interviewed. I don't know their reasons (perhaps I was seen as an outsider, and perhaps some of their memories were too painful), but I respected their decisions.
Why did Bunetta (who died in 2015) relent? A growing chorus of musical sources — unbidden by me — kept calling Al and asking him to participate, and those voices probably had an effect. But Al was between a rock and a hard place, wanting to aid a serious biography of Steve but also wanting to respect Nancy's wishes. Al finally agreed to talk, and I interviewed him for eight hours over three days in 2005 in Nashville. As he told me, "I figured the book wouldn't be any better without me."
It's important to note that while I was not able to interview Minnette, Nancy, David, Sarah or Rosanna, they are far from absent from the book. They are captured in many comments and stories from others, as well as in material quoted from other printed sources. Some of the most revealing and touching anecdotes and insights directly involve these people, and I couldn't have done justice to Steve's life without them.
Another challenge, perhaps equally daunting, was to bring the project to a close, which included the transcription of endless cassette tapes, harnessing a mountain of material into a dynamic narrative, caring for my mother in her final, post-stroke years and maintaining our finances and household equilibrium after having quit my day job to finish the book. Suffice to say, I am lucky that I am still married.
What drove you to complete the book?
Probably journalistic ethics and practice, instilled in me at the University of Oregon School of Journalism and via 15 years of work as an editor, reporter and photographer for four newspapers. Dan Rather said it well in his memoir The Camera Never Blinks: a story's no good unless you get it out. When you start a project and engage so many people, your credibility is on the line.
Plus, somehow, in my mind's eye, I could see the completed book – not exactly how it would look, but rather the mere fact of the book and the impact it could have on people. This stemmed from a belief in the worthiness of the subject and an instinct that while it may sound trite, Goodman people are everywhere.
To develop that belief and instinct, another cliché kicked in: "You had to be there." The best Goodman was always live Goodman, and I was fortunate to experience him twice. All it took was once. He ruined me for other musicians. No other musical performer could so completely capture an audience with songs that were by turns romantic, funny, socially conscious or all three combined – both his own songs and the countless others in his encyclopedic repertoire. It may sound odd, but I almost felt I owed it to Steve to finish the book.
You know what is really odd? After the second time I saw Steve in concert, the woman who accompanied me swears that we went downstairs to the dressing room and met Steve. But I don't remember that. What I recall was his stage show.
If you had it to do all over again, how might the writing process be different?
That's a potentially interesting question given the project's mammoth dimensions. But the truth is that, sure, while I no doubt made some mistakes along the way, I have no regrets. It wouldn't trade any of it for anything. It was a profound learning experience for me.
The biggest lesson of all lay in the title of Steve's final song on his final LP before he died: "You Better Get It While You Can." I am convinced that in the verb "get" he didn't mean "acquire" but rather "understand" or "do." As his lyric states, "If you wait too long, it'll all be gone, and you're be sorry then." I didn't wait. I did it (with a lot of help) while I could. What an energizing lesson. My primary emotion about it all is gratitude.
Steve Goodman was diagnosed with leukemia at age 20. At that time, treatment protocols and survivability were not as good as they are today. Receiving that kind of news then was enough to very much weigh down most people. For the most part, it didn't affect Steve that way. How did he respond during the more than 15 years he survived post-diagnosis?
Throughout my interviewing and other research, I found evidence in Steve for all of what we know from author Elizabeth Kübler-Ross as the typical stages of grief – not in any orderly sense, but in spurts that came and went just as did his leukemia. Most impressive to me was Steve's ability to make others comfortable in his presence, largely with humor. For instance, he nicknamed himself "Cool Hand Leuk," and in talking of his beloved Chicago Cubs, he once said that if the team made it to the World Series, it would be a "coronary event."
Two years before he died, Steve's leukemia became public, which forced upon him frequent entreaties to extemporize about his disease. One such example, among many quoted in my book, came in an NBC-TV interview about a year before he died: "There's nothing like having to deal with a problem to get you out of yourself. You have to just be objective suddenly and take care of business – or roll over, and I don't have that in my personality. … I guess there is some kind of rage underneath all these jokes, some internal boiling going on, but I tried to use that energy and that anger to deal with the situation."
Steve was drawn to music from a young age. Tell us about this.
This clearly drew from his role as a grade-school-age soprano star at his temple, where he often sang solos for bar mitzvahs. The diversity of music on Chicago radio stations that reached his ears via the radio was another factor, as was the influence of friends who taught him guitar and goaded him, in testosterone-fueled competitiveness, to succeed. Certainly musical performance was a way for a tiny teen to excel in the eyes of his more normal-sized peers. All of this is detailed in the book.
What were Steve's first experiences visiting blues clubs like? What did he learn from those visits?
He and a high-school friend, without their parents' knowledge or consent, drove on frigid winter nights to the Chicago South Side blues clubs to soak up their down-to-earth music and atmosphere. Neither of the two had girlfriends, so this was their activity for a time. There is no question that Steve, like a sponge, picked up lyrics, technique and stagecraft from these clandestine visits.
Steve had a remarkable ability to remember music and lyrics. How did he put this to good use?
He had what one source called a phonographic memory, and at concerts and informal gatherings he became known for pulling obscure tunes from out of nowhere to dazzle his audiences. As Bonnie Raitt told me, he was "an irrepressible, impish jukebox of songs and energy. He literally could play anything."
Did Steve ever learn to read music?
Not that I became aware of.
Do you know if he ever tried?
I don't think so. He relied on his eyes and ears, rather than written music, to learn songs. Steve also constantly played records for others and implored them, "Listen to this! Listen to that!"
Does this strike you as odd, as music was an important part of his life from a young age?
Not really, given his intellect and, more important, the praise he received throughout his life for his phenomenal memory. Learning from sight and ear became a self-reinforcing method that worked for him.
How tall was Steve?
5-foot-2.
Was he self-conscious about his height?
Self-aware is more like it. He joked quite a bit about it. For instance, he said he would need to buy stilts to open for Randy Newman at a time when the headliner had his hit with "Short People."
Onstage, Steve's height didn't matter because, as John McEuen said, "His eyes hit the back of the room."
In the book, there is a vivid, edgy and profane anecdote about his height that sums up how he coped with his size – and life in general. But I will leave your readers to find it in the book itself (on page 554).
His parents were also short. Does your research indicate that they modeled self-confidence to Steve?
Steve's mother modeled steely pride, and his dad modeled the gift of gab and not taking things too seriously. That's a good combination for self-confidence.
Many people got to know of Steve's father, Bud, as a result of hearing the moving and biographically accurate portrayal of the father-son relationship in the song "My Old Man." Bruce Springsteen, your book reveals, met Steve in the lobby of a West Hollywood hotel. Springsteen, in response to Steve introducing himself said, "That song about your old man – great song!" Springsteen's relationship with his own father enters into some songs and has been an issue that he's addressed with audiences, interviewers, and written about in his memoir, Born to Run. "My Old Man" is powerful. It's understandable why Springsteen took notice of it and acknowledged it as he had. Please tell us about this song and why an "imperfect" first take in the recording studio resulted in the decision that no more takes were necessary.
"My Old Man" is a perfect example of the core characteristic of Steve's songwriting – specificity that becomes universal. In painting this detailed picture of the relationship he had with his father, Steve allowed anyone listening to the song to identify with it.
Ray Frank, a singer/guitarist who connected with Steve in his early performing years, put it well: "It's a perfectly done story song, a portrait that with such concision points to so much about a person's life and what that life meant to somebody else. The genius is that you feel that way about your old man, I feel that way about my old man, and everybody does. He was able to talk about the conflicts between them as well as appreciate him. What genius!"
Obviously, the song was intensely personal for Steve, and he recorded it so soon after he wrote it that in the studio, in the middle of the final verse, at the point where he was about to describe the first time he cried over his father's death, he broke down and couldn't continue singing. But he kept strumming softly, and six measures later he finished the song.
"That's take one and take last," he said later. "I just went in there and sang it, and somethin' aired out there. … We're human, that's how it goes. That's the way the eggs look sometimes. Sometimes they have little spots on them. I can't help it. I can't help thinkin' that Venus had a couple of pimples, y'know. I'm not making any comparisons. I'm just sayin' that anything that's really good to me has something about it that's just a little askance so that you can see the rest of it."
How was Kris Kristofferson helpful to Steve?
Kris and Paul Anka – opposites in the entertainment limelight – simultaneously "discovered" Steve during a week in spring 1971 at the Quiet Knight club in Chicago. Later, Kris triggered Steve's first LP recording sessions in Nashville, and Paul managed Steve for a time. In different ways, they were equally helpful to Steve. But most important was the fateful initial week, and in the book I have exploded those nights in 10 pages of description because it is arguably the key story of the book. The story illustrates Steve's genuine generosity of spirit, and the beneficiary was his musical compatriot, John Prine.
Tell us about Steve's altruism for his friend John Prine.
At the risk of oversimplification, I think it is fair to say that without Steve there would be no John Prine in the public consciousness, and John knows it. He told me that "with everything that he did, onstage, offstage, through a lot of different situations, he would work his butt off to do his best, and if he liked you, he would shine that light on you. He was not at all anywhere close to a selfish person, even unconsciously."
How did John Prine assist Steve in the writing of "You Never Even Call Me By My Name"?
When Steve and Prine came to New York City after their fateful "discovery" by Kristofferson and Anka, Prine landed a record contract instantly, whereas for Steve it took more time. In that interim period, when they were staying at a swanky hotel on Anka's dime, Steve began writing a mournful song, possibly about his neglect and possibly about his leukemia. His lyrics began, "It was all that I could do to keep from crying. Sometimes it seems so useless to remain." Prine, returning to the hotel room from a jaunt to Greenwich Village, was feeling jovial. He told me that he decided not to put up with Steve's mood and started teasing him. "I jumped up on the bed like I had an imaginary violin, like I was a weeper, and I was standin' on the bed playin' it, and I went, 'You don't have to call me darlin', darlin', but you never even call me by my name.' And we both laughed and hooted and beat on the walls and thought it was the funniest thing."
Prine disavowed his public connection to the song because he thought it unfairly poked fun at country music. Four years later, when David Allan Coe covered the song, turning it into a hit (while falsely claiming credit for triggering its triumphant final verse), Prine would not accept royalties, so Steve bought and delivered to Prine's home a jukebox.
Describe the friendship of Steve and John Prine.
Deep friends. Friendly competitors. Mutual champions.
There is irony that Prine came to notice because of Steve and succeeded in all commercial measurements far beyond Steve. The irony deepens in the fact that Steve constantly promoted, performed and covered Prine's songs, yet Prine rarely has performed or recorded Steve's songs. When the two were often paired in concert, Steve was always the opener, Prine was always the headliner, and Steve always came onstage late in the show to help Prine play Prine songs and other songs but none of Steve's songs. Steve even produced one of Prine's most well-regarded albums. Since Steve's death, Prine regularly has paid tribute to Steve in concert, but via his own "Souvenirs" rather than a song of Steve's.
Prine chalked some of this up to his own performing limitations in the face of Steve's stellar ability. He told me, "I'm not a very good harmony singer, and I'm not a guitar picker where I can just get up and pick on anybody's song. Steve, though, was just the opposite. He could jump in the middle of any of my songs and sing the lead or the harmony or play the lead or background. If we could have figured a way for me to pick on Steve's songs, we would have just done the whole thing as one show. But I wasn't then and I'm not now that dexterous, and Steve always put a couple of really hard chords in his stuff. I didn't write such simple melodies on purpose, like that's all I knew, but Steve knew all the old standards like 'Lady, Be Good' and what I'd call nine-fingered chords, where you need nine fingers to hold 'em down. I didn't know those things, so Steve would be the helper."
Why was Arlo Guthrie an ideal person to cover and popularize Steve's "City of New Orleans"?
As the son of the then-recently departed folk icon Woody Guthrie, Arlo was bearing a weighty mantle, so "City of New Orleans," with its strains of tradition and mortality, was a perfect fit for him. Arlo told me that when he successfully covered the song, he went from being a fringe, hippie-like performer with limited appeal to a "train guy" who could play anywhere.
It also was a symbiotic match of songwriter and musician. Without Arlo's hit version of "City," there may have been no Steve in the mainstream consciousness. Similarly, without Steve, there may have been no Arlo in the mainstream consciousness.
Give us some background about Steve's writing of this song.
The book is full of details about this. Suffice to say that the writing process wasn't as simple as Steve made it out to be. He typically stated that "the muse" hit him during a 1970 trip on the train that he made with his new wife Nancy, from Chicago to Mattoon, to visit Nancy's grandmother. He said he simply looked out the train windows and wrote down what he saw. He also said upon his return he wrote the song's middle verse when prodded to describe what he saw inside the train.
This all happened, no doubt, but as the book documents, the true genesis of the song – indeed its anthemic chorus – sprang from a trip he made four years earlier, in 1967, all the way from Chicago to New Orleans, while bypassing and skipping classes at the University of Illinois at Champaign/Urbana.
The appeal of "City of New Orleans" lies in Steve's journalistic songwriting approach, which, not incidentally, resonated with me, given my own journalistic work. As Steve put it to WGN-AM's Roy Leonard in 1972, "Everything in the song happened. I wish I'd made it up, y'know, but I'm not good at makin' up songs. I guess I'm not too good at fiction. I guess I can surround real events with some fiction every now and then to dress 'em up, but I don't come up with fictional situations too often. I kind of have to see it first."
"It's just using your eyes, really," he told L.A. Folkscene radio host Howard Larman the same year. "My big trouble is that I don't use 'em well enough, because I usually filter what I see through my own set of experiences and stuff like that too much. It's very hard for anybody around to take an objective view of anything – y'know, just describe it. Sometimes what you think is the best poetry in the world is just somebody using their eyes right and just tryin' to describe what they saw rather than what they felt about what they saw. Then it makes the listener or the reader of the poetry do the work. … The good poets use the kinds of words that will help you paint the picture in your own head."
Why does "City of New Orleans" resonate to people from all walks of life?
To answer this, I'll cite quotes from three sources in the book. First, Hillary Clinton: "I really think 'City of New Orleans' is one of the great songs that came out of my generation. I love that song, and I think that his passion and narrative storytelling ability just struck a chord with so many people."
Singer/songwriter Ellis Paul from Charlottesville, Virginia: "It's a universal perspective, even though he is speaking from a train's perspective. It's a song about American manifest destiny and the glory of travel and the freedom of being a human being in a free society. It's more than a train. It's about America. He's talking, really, about more than 300 million people, and he did it beautifully. You cannot listen to that song without feeling we're lucky to be where we are."
Darcie Sanders, co-founder of Amazingrace Cooperative in Evanston, Illinois: "It's the best outsider anthem anyone has ever written for America. For people coming of age in the 1960s and 1970s, that's how we all felt. We were the native sons and daughters, but maybe America didn't know us or recognize us. … Who has not felt that their life is disappearing? It's the questioning, the trying to get closer, and yet the train is speeding away, the sense of the lost moment. That's how a whole generation felt about their relationship with America and themselves as Americans. … You can't stop people from singing it. This goes beyond classic into something archetypal that hooks into people so deeply that they're moved, and they join in. That's an incredible test."
One of the most well-received songs that Steve recorded and performed isn't one that he wrote, just as it wasn't for Arlo, with Arlo's cover of "City of New Orleans." Talking here about "The Dutchman," written by Michael Peter Smith in 1968. Tell us about the song and Steve's experience with it. What enabled him to interpret the song as effectively as he had?
That's easy to answer. "The Dutchman" warmly and poignantly described the life and love of an elderly couple who were at least twice as old as Steve would ever become. This dichotomy became even more moving when Steve performed the song accompanied by ace mandolinist Jethro Burns, who was the age of Steve's father.
Stories abound about "The Dutchman" in the book, including the startling tale of Steve's performance of it at his father's memorial service.
Steve brought audiences to a hush every time he performed "The Dutchman." Occasionally, he bid audiences to sing along on its gentle chorus. You aptly draw the parallel between his cover of "The Dutchman" and its effect on Michael Smith and Arlo's cover of "City of New Orleans" and its effect on Steve. Steve's cover of "The Dutchman" made Smith's career, and, reflecting an ultimate honor, Smith told me that Steve told him that "The Dutchman" is "the one that people talk about when they talk about me."
We haven't spoken of the sense of humor that Steve demonstrated on-stage and in song. What contributed to the development of his funnier side?
His dad's used-car sales banter certainly was a model, but I think a greater factor was Steve's disease and his gallows approach to it. To laugh at death is to disarm it and allow for a more joyful life. It's one of Steve's many life lessons.
Steve was the opening act for 200 shows with comedian Steve Martin. (Rolling Stone ranked Steve Martin at number 11 on its list of "50 Best Stand-up Comics of All Time.") Why did this pairing work so well and what did those performances indicate about Steve Goodman's abilities?   
It boils down to Steve's wit and personality that played well to stadiums full of Steve Martin fans and fanatics. I will let Steve Martin elaborate here. He told me, "The greatest thing about Steve was his nature. He was a happy, up guy. He didn't assault the audience. They weren't exhausted by the time I got onstage. It was a perfect match. … He was wry. It had to be a delicate kind of comedy to be compatible with me. It couldn't be hit-'em over the head, because I was going to do that. He just was charming."
The pairing of the two Steves was unique, of course, but it also revealed Goodman's adaptability to most any circumstance. There was something about his keen awareness of life's true value that gave him a universal appeal. Many seek such ability, but very few attain it.
The words that make up the title "Would You Like To Learn To Dance?" were first spoken to the woman who would later become Steve's wife. Tell us about this.
It was September 1969, and Steve – then unknown beyond Chicago folk circles – was performing at the Earl of Old Town. Bustling between tables with a tray of drinks was a 5-foot-9-1/2-inch waitress. As she whirled around, Steve stepped off the stage, and — as he told folksinger Jim Post and others in later years — he "walked into her abundance." Bartender Roger Surbaugh, who witnessed the collision, told me, "This could have been a terribly embarrassing moment for both of them, for everybody. But Steve just looked up at her with those big, brown eyes and a big smile on his face, just as innocent as a choirboy, and said, 'Would you like to learn to dance?' Everybody in the room just cracked up." The waitress, of course, was his future wife, Nancy.
What are some of your favorite lighter songs of Steve's?
"Video Tape," certainly. "This Hotel Room," no question. "You're the Girl I Love," absolutely. But all of them have a serious kick as well. That was the beauty of Steve's songwriting. He could be serious and even socially conscious but also seamlessly weave in humor, and more often than not, the joke was on the Grim Reaper.
What is your favorite story song?
"A Dying Cub Fan's Last Request" tells a story that appeals to not only baseball fans but anyone who has dealt with failure – that is to say, everyone. The song's punch line is about having the ultimate last laugh. And like Steve's best efforts, the song paints a movie you can see in your mind. He was a master at using concrete, sensory detail, at drilling down to specifics, to allow listeners access to his vision.
Steve was zealous to perform at his best. How did he master auctioneer patter on "The Auctioneer" (a song he covered but did not write), and how was this revealed?
As a 21-year-old in his Chicago rental apartment, he hunched over a turntable and played an LP at 16-rpm half-speed so he could absorb all the words to this novelty song. I learned this from a temporary roommate of Steve's, Ron Rosoff, who described the scene as if it were yesterday. This is one of countless examples validating the approach of chasing down all the leads that I was given. To quote a Steve song title, you never know what you will find behind "Door Number Three."
Why was Steve Goodman not more commercially successful?
I asked this of nearly every one of my interviewees. Answers ranged all over the map. One of the answers that made the most sense, because it addressed Steve's masterful eclecticism, came from Emily Friedman, editor of the Chicago folk magazine Come for to Sing. She told me: "None of those in acoustic music were ever able to figure out how you go big-time. In my cynicism, I think it's because the people in this milieu are too good, because if you're very good, you're eccentric, and if you're eccentric, you're not pabulum, and if you're not pabulum, they can't sell 20 million of your work. You have to be nondenominational, whereas Stevie was every kind of denomination."
It is imperative to note that Steve did achieve success far beyond that of many of his peers. He still has millions of fans 33 years after his death, and his songs are racking up untold new devotees every day.
I'll close this answer by quoting from my book's introduction: While many of the celebrities I interviewed "feel that Steve deserved more fame than he received, they also grasp implicitly that fame is a misleading measure of greatness – and that, as Steve exhibited, there is greatness in us all. That lesson emerges in Steve's relentless gratitude.
"Though some friends and fans rail and weep at what didn't happen for him professionally, Steve's own assurances paint him as no victim. A year before his death, with no support from a major record company and no indication that any song of his, as performed by him, would ever be a hit, he still could summon a charming barroom analogy in saying he had been 'grievously overserved.' "
Readers of Steve Goodman: Facing the Music have access to a tribute CD. How did the CD come about and how do readers get to hear it?
In my interviews, I kept coming upon musicians who had recorded tribute songs to Steve or songs that mentioned him prominently. At first I thought I would mention these few tunes in a final chapter that documented how Steve lives on after his death. But the number of songs kept ballooning, to a total of more than 25. So I decided to provide a bonus, and fortunately ECW Press agreed. The first two printings of the book included a CD featuring 17 tribute songs, and astonishingly, all of the artists gave me permission to use the song gratis, so eager were they to be associated with the project and with Steve.
Starting with the third printing, ECW Press wanted to reduce production costs (the book, after all, is 800 pages, including a 16-page color section), so the CD was eliminated and transformed to an online download opportunity. In response, one of the musicians, the irrepressible Jef Jaisun, cracked, "Are they crazy? Boomers don't download!"
Your readers – boomers and those of all ages – may be pleased to know, however, that I've instituted a nod to the old school. If they order the latest printing of the book from my website, they will receive a tangible CDR with all the tracks, along with a signed postcard for use as a bookmark.
Steve was a huge fan of the Chicago Cubs. Tell us how this was reflected in his life, music and posthumously fulfilled wishes.
This is covered voluminously throughout the book. The Cubs, of course, were failures during Steve's lifetime, and he embraced the Cubs in spite of – and perhaps because – of that, just as he embraced mortality. He wrote a few precursors, but his "A Dying Cub Fan's Last Request" is a masterpiece. It presages a funeral at Wrigley Field, and as the book describes in the last few pages, a small portion of the cremated Steve actually wafted over the left-field fence and onto Waveland Avenue, just as in his song.
There was a renewed surge of interest in Steve's music, particularly the songs "A Dying Cub Fan's Last Request" and "Go, Cubs, Go" when the Cubs won the World Series. Please tell us what happened, why, and how you feel Steve would have felt had he been alive to witness his team's victory.
"Go, Cubs, Go" is suffused with fun and irony. It is arguably the least complex song in Steve's catalogue but the most infectious. It also is the most successful in that more copies of the 45-rpm single were sold in 1984-1987 than any of Steve's LPs in his lifetime. And it wouldn't exist without "A Dying Cub Fan's Last Request."
The latter song, which Steve wrote and released in 1981, was an affectionate valentine to the Cubs, but a fatalistic one, calling them "lonesome losers" and "the doormat of the National League." So it was no surprise that Dallas Green, the general manager of the Cubs, couldn't see beyond the joke and decided to ban Steve from playing it at Wrigley Field. The radio station that broadcast the Cubs games was frustrated by this and, in spring 1984, just six months before Steve's death, WGN-AM's Dan Fabian asked Steve to write a new Cubs song that could be played at Wrigley. Steve responded, "I'd love to do it. … It's gonna be an anthem."
What it also became was a phenomenon, played to sellout crowds at Wrigley that year and to millions of fans via radio, day after day. Starting in 2007, the Cubs have played it at the end of every home win, with 41,000 people standing and singing – even bellowing – along. (This itself is ironic given that the song's lyrics say, "The Cubs are going to win today," and it is sung after the Cubs already have won. Picky, picky, picky.)
Of course, as "A Dying Cub Fan's Last Request" intoned, "the law of averages says that anything will happen that can," so in 2017 the Cubs not only went to the World Series for the first time in 108 years but also won it. Immediately afterward, "Go, Cubs, Go" was heard in a massive rally at Chicago's Grant Park and nationwide on TV's "Saturday Night Live."
What would Steve think of the Cubs' success if he were alive? No question he would be delirious and giddy. But he also would have been forced to consider rewriting "A Dying Cub Fan's Last Request," which stated, "The Cubs haven't won the National League pennant since the year we dropped the bomb on Japan." The rewrite, including a change of tone, would have had to be massive. Perhaps Steve would have consigned the song to the dustbin. Who knows.
What I wonder at this point is whether the Cubs – by winning the World Series like any team eventually does – have lost their Sisyphus-like mystique. There is something virtuous about a ball club (or any individual or institution) eternally striving for success, however you define it, and repeatedly finding failure. The Cubs have now reached the mountaintop. Where do they go from here?
How has what you learned about Steve positively impacted your life?
What I have learned about Steve is innately and intricately intertwined with what I have learned from the book project itself. Each is easily a metaphor for the other.
For decades, the form of biography has fascinated me. I believe the most accessible and appealing form of history is biography, and I read once that if you are contemplating the research and writing of a biography, you had better warm to your subject because you are going to be living with that person for a long time. So true! I feel fortunate to have been able to choose Steve as a subject – particularly given that I was plowing new literary territory – and to have learned a great deal about him, warts and all. It is our flaws that make us human, and Steve's story is all the more endearing and inspiring to me for his faults.
One of Steve's life lessons is perseverance in the face of eventual doom. To move forward with hope, energy and humor. To seize and spread the joys. To, indeed, "get it while you can." To tackle and complete this book project is a direct application of that lesson. I could not feel more grateful.
You never had an opportunity to interview Steve Goodman. Given what you've learned about his life and music, what are a few of the questions that you wish you could have presented to him?
Did you ever see the last few minutes of the Cameron Crowe film "Almost Famous"? The teen reporter, William, finally gets to ask the rock star, Russell, what he likes about music, and Russell replies, "First of all, everything." That's my answer to this question. The interviews of Steve would have taken days, weeks, months.
But it would have resulted in a different story – no less fascinating, but far different. And I wonder, had I the opportunity to interview Steve, would I have been driven to talk with 1,100 others about him? That's an unanswerable question.
Over the years since 1999, when I started in earnest on this book project, I have had two vivid dreams involving Steve. The first has me waiting for him in a hotel lobby. We have an interview scheduled. He comes down a stairway, walks over to me, says, "I'll be with you in a minute," walks over to a different stairway and ambles down the stairs. I never see him again. I had him, but then he's gone. My hands are seemingly outstretched and grasping at thin air, like Sisyphus.
The second dream has me talking with Steve somewhere, it could be a recording studio. He tells me of a song he has written and the LP he plans to put it on. I reply, "I'm from the future, and that song isn't going to be on that LP." It's a funny construct (that "I'm from the future"), and it's odd that I'm the one telling him something.
"What-if" questions are tough to answer, perhaps fruitless. Better to try to answer questions dealing with the knowable. Like Steve had to. Like we all have to. As Steve wrote, "It happens all the time in real life."
Further information about Steve Goodman: Facing the Music is at: www.clayeals.com.
Posted Sept. 10, 2017
A Conversation With John Lupton, Co-host of 'Rural Free Delivery' Radio Show on WVUD-FM
By Steven Brodsky
John Lupton has co-hosted "Rural Free Delivery" with George Mercer since December 9, 1989. The show and its hosts are coming up on the 28th year of broadcasting old-time, bluegrass and country music. The popular show airs live on WVUD, the University of Delaware's non-commercial radio station on Saturdays from noon–­­­­­­­­­­­­2 p.m.
In addition to co-hosting "Rural Free Delivery," John (humbly) plays an important part in other cultural gems, including the Delaware Valley Bluegrass Festival. Sometime around 1981, he started volunteering at the Delaware Bluegrass Festival (the original name of the Delaware Valley Bluegrass Festival) and never stopped. He joined the Board of the Brandywine Friends of Old Time Music in 1989. This organization produces the Delaware Valley Bluegrass Festival and a concert series. Circa 1990 John was elected President of the Brandywine Friends of Old Time Music. Consistent with a pattern of longevity that you may have noticed is emerging here, he's continuously served as President.
You were raised in and around Wilmington, DE. When, how, and why were your drawn to styles of music featured on "Rural Free Delivery"?
Back in the mid-1960s, my dad bought me a Heathkit portable radio — do you remember Heathkits? They came as parts, and you sat down with a soldering iron and put it all together. I actually still have that radio, some 50 years later, and it still works. Anyway, I took that radio to Boy Scout summer camp one year to a camp down in the wilds of the Eastern Shore along the Nanticoke River. The clearest station I could get was a country station in Salisbury, MD — I remember, it was WICO so I pretty much listened to nothing but country music for a couple of weeks and found that I actually kind of liked it. Going to high school in the suburbs of Wilmington, at a time when the other kids were getting into the Beatles, Stones, Led Zeppelin, et al, it wasn't exactly a smart thing to let on that you had any kind of liking for country music, so I pretty much kept it to myself. Don't get me wrong, I liked a lot of the '60s-era rock and roll — I'm still a huge Moody Blues fan — but if someone asked what the latest record you bought was, and you said "George Jones," you were going to get some funny looks.
What was the music scene like in Austin during your college years there? 
I started at the University of Texas in the fall of 1970, and Austin was still a relatively small city then — I think it was about a tenth of the size it is today. Most of what happened there centered around the University and the State Government. The music scene was also a lot smaller then, it was still in the early years of the whole "Outlaw" thing, of being the "Anti-Nashville." Coincidentally, one of the acts just starting to make a splash there at the time was Asleep at the Wheel, who we're featuring at our bluegrass festival this year. Another person who was big in Austin in those years was Michael Martin Murphey, who was billing himself then as the "Cosmic Cowboy." Jerry Jeff Walker and Ray Wylie Hubbard were also around then. Being a college student with limited time and funds (not to mention being too young to get into a lot of the hot clubs), I didn't get to see as much live music as I would have liked, but between KRMH ("Good Karma Radio") and KOKE (probably the original "alt-country" station), you could hear plenty of what was happening on the local FM radio band.
Willie Nelson and others who were outside of the mainstream Nashville country music currents, were becoming established in Austin at that time.  Any recollections about Willie and other artists that you can share with us? 
Not long after I got to Austin, I was sitting in the TV room of my dorm one evening, and a commercial for a local car dealer came on. A familiar-looking face came on and said, "Hi friends, this is Willie Nelson for McMorris Ford. …" I looked at one of the other guys in the room and said, "Willie Nelson? The Willie Nelson? Doing local car commercials?" He just smiled and said, "Yep." He wasn't quite yet the "Outlaw Willie" we know — his hair was still relatively short, and I don't recall that he had a beard — but it was something of an otherworldly experience. But that's how Austin was back then, a cool, weird place. Another band that was cranking up back then was Commander Cody. I've met Bill Kirchen a couple times and had the chance to chat a little about those days. He ended up moving back to Austin for good a few years ago.
Asleep at the Wheel are strongly associated with Austin. (The band was co-founded in 1969 by Ray Benson. Ray, of course, continues to this day as the band's front man. Longevity again. Delaware Valley fans of Ray Benson know that Ray was born and raised in Philadelphia). How cool is it that Asleep at the Wheel will be appearing at this year's Delaware Valley Bluegrass Festival?
It's about a 9.5 out of 10 on my "cool meter." I've seen Ray and the band a number of times over the years, and they never disappoint. I wish Elizabeth McQueen was still singing with them, but Ray always has great people in the band. We've actually had to work pretty hard to make the arrangements for them to appear with us. For one thing, they're a huge band compared to your average bluegrass band, something like 8 or 9 musicians at any given time, and have a lot higher level of technical requirements we had to meet. One thing is, we had to seriously upgrade the electrical capacity and wiring at the stage on the Salem County Fairgrounds to handle them. Fortunately, our stage managers Archie Warnock and Howard Parker are performers themselves and have done a great job working with AATW and the Fairgrounds to get it done.
Among the performers in the lineup for the Festival, speak of one or two who have special significance to you. (The Delaware Valley Bluegrass Festival will take place on Sept. 1–3, 2017 at the Salem County Fairground in New Jersey.)
I'm always happy to see Bob Amos come back to the festival. He's a Delaware guy, and I've gotten to know him pretty well over the years. I first heard about him in the early years of doing my radio show when his brother Bill (who still lives in Wilmington) sent us a CD of a Colorado bluegrass band that Bob was in. That band was Front Range, and they quickly became regulars on the radio, as well as at the festival. Bob's singing and songwriting was one of the most appealing facets of that band. When Mike Lantz, the mandolin player passed away from cancer, the band broke up, Bob moved back east, and we didn't hear much from him for a while. He's in Vermont now, and this year marks I think the 3rd time we've had his current band Catamount Crossing. It's just always a pleasure to be around Bob and hear him perform.
Which performances at the Delaware Valley Bluegrass Festival have meant the most to you? Please tell us why.
There have been so many, it's hard to focus on one. Oddly enough, though, one of the best musical moments I've experienced at the festival didn't happen on the stage. It was 1994, or thereabouts, and we had Lynn Morris and her band. At the time, in addition to Lynn and her husband Marshall Wilborn on bass, she had a couple of young kids with her, a guitar player named David Grier and a Dobro player named Rob Ickes. Yeah, they've both gone on to have pretty substantial careers, but back then they weren't that well known. I was walking around behind the stage and noticed a group had gathered to watch something about 50 yards or so from the stage. I wandered over to see what was going on, and Rob and Dave were just having a little "fun jam" between themselves, and if 20 or 30 people wanted to watch them, that was fine with them. A few minutes later Ira Gitlin came over with his bass and joined in, and it went on for something like 45 minutes. It was one of the most remarkable things I've ever seen at the festival.
For those not familiar with "Rural Free Delivery," please tell us about it.
Well, to start from the beginning, back in the mid-1970s the radio station at the University of Delaware (then known as WXDR, now known as WVUD) began giving community members, i.e., non-students, the opportunity to do specialty programming on the station. Carl Goldstein, who is the longtime chair of the Brandywine Friends and Director of the bluegrass festival, began doing his show "Fire On The Mountain", a mixture of bluegrass, old time and classic country music. The show was so popular that a few years later another, similar show "Back Porch Blue Ridge" was paired back-to-back on Saturday morning/afternoon. That show was hosted by Alice Sebrell, who was also a Brandywine Friends board member. When Alice decided to leave the area and return to school in Georgia, my friend George Mercer and I were asked to step into her place. And so, on December 9, 1989, George and I debuted "Rural Free Delivery", and we're still there, and so is Carl – I think this is his 40th year. As I said, Carl's show and ours are both mixtures of various types of traditionally-oriented country music, but we tend to have differing tastes in which artists we play, how often, etc. An important point, though, as George likes to phrase it, is that when we say we play Hank Williams, don't feel like you need to ask us if we mean Senior or Junior. There's only one Hank.
Describe the experience of co-hosting the show with George Mercer. 
George and I have known each other more than 40 years, we used to hang out at the same bar in Wilmington (which, alas, is long gone). We've spent so much time together, both on and off the air, that we're almost like an old married couple that finishes each other's sentences. Or more accurately, I guess, we've had the same conversations so many times that all one of us has to do is say a word or two, and we have complete understanding. What's most fun, though, are the conversations we have in the studio while the mike is off — except, if we accidentally put one of them on air, we'd be on the street so fast it would make our heads spin. Let's just say they're not "FCC-friendly." But we have a good time, and we enjoy sharing the music. As George says, if we weren't playing it on the radio, we'd be sitting at home playing it for ourselves, and that wouldn't be nearly as rewarding.
Which shows have affected you the most personally? 
George and I were on the air on Saturday, August 8, 2009 when the phone rang, a friend of mine who was at the beach in Delaware with my wife called to let me know that she — my wife, that is — had been taken to the hospital in Lewes after having difficulty breathing. I left George to finish the show on his own and headed down through the weekend beach traffic as fast as I could. When I got to the hospital, I learned that she had suffered a pulmonary embolism and had passed away. So, I think you can understand why that show has the most personal meaning, but it wasn't really anything to do with the show.
Among artists whose music is aired on "Rural Free Delivery," which do you tend to listen to the most when not co-hosting the show?  
Emmylou Harris. No question. I worship the very ground she walks on. I don't think people fully understand how influential she's been in so many areas. I'm also a huge fan of the various things that Chris Hillman and Herb Pedersen have done over the years, and love to listen to those two over and over. I play the Dobro a little myself, and find myself returning often to Mike Auldridge and trying to absorb what he did, though I'll never get close to the level he was at.
What other genres and artists do you listen to?
I mentioned my dad, and Heathkits earlier — his first "Hi Fi" system was a Heathkit he put together in 1955. He put the tuner dial on WFLN, the longtime Philly classical station, and never changed it, so I grew up hearing a lot of classical music, and still love it, though I don't consider myself an expert in it. As I said, I was into rock and roll along with country during my high school years, and I still pull out my Moody Blues albums — well, CDs now — and play them. I've spent a lot of the past 25 years or so hanging out with a lot of people in what's generically called "Folk Music" these days. Many of the singer-songwriters I've met are astonishingly talented people whose music I genuinely like, even if it doesn't fit my radio program, so I don't play it on the air. Some of the others are way too far out there for me to catch up to. I also love good jazz and blues, but as with classical, I can't claim to be all that knowledgeable, but as the saying goes, I know what I like.
Involvement with the Delaware Valley music scene has connected you to people who became very significant to you in your personal life. If you'd be comfortable in telling our readers about this, please do so. 
My late wife, Suzi Wollenberg (whom I mentioned above) was also a longtime radio host, and WVUD and the Brandywine Friends is how we met. She was involved in running the Green Willow Folk Club (Celtic music) in Wilmington, got me wrapped up in it too, and through that I have met dozens of musicians from Ireland and the UK who have become close friends. I remarried a few years ago, my current (and hopefully last) wife is Jayne Toohey, who is a noted photographer in the folk music world. I had known her several years, and we got together when I invited her to come take pictures at the bluegrass festival a few years ago, and we hit it off pretty well, I'd say.
What is involved with being President of the Brandywine Friends of Old Time music and to what do you attribute the many years of your tenure? 
To be honest, it's mostly a ceremonial position, or more to the point, somebody has to be the president, and I'm the guy who foolishly said at some point around 1990 or so, "Ok, I'll be the president." I often jokingly say that I'm "El Presidente for Life", but every time board elections come around, I'm still the one standing around when the music stops. Since we're an all-volunteer organization, though, I take some satisfaction in telling them they get what they pay for. Seriously, though, the way we get our work done is by understanding what each other's talents, abilities and roles are, and working together on a peer-to-peer basis without worrying about who's got which title.
What do you most enjoy about what you do with the organization?
A few years back, at one of our fall concerts we had an old-time husband-wife duo from Ohio, Ann and Phil Case. At the end of the show, a dear friend of mine Rosemary Haines (who, sadly, passed away a couple of years ago) came up to me and said, "They were wonderful! I'd never heard of them, thank you so much for bringing them!" That's the real payoff in doing all this work putting on festivals, and concerts, and being on the radio — it's when the people who come to the shows and/or listen on the radio make a point of expressing their appreciation.
"Rural Free Delivery" streams live at www.wvud.org.
Information about the Brandywine Friends of Old Time Music is available at: www.brandywinefriends.org.
Posted 8/24/2017
Tedeschi Trucks Band Footage from Denver's Red Rocks Amphitheatre
By Steven Brodsky
Got a scoop from representatives of the Tedeschi Trucks Band about two just released video clips from the recently completed and very successful 3rd annual "Wheels of Soul" tour.
One is of the Tedeschi Trucks Band's backstage rehearsal at Red Rocks Amphitheatre of Bob Dylan's "Down Along The Cove" with Widespread Panic's John Bell on lead vocals. The other is of a performance at Red Rocks of Tedeschi Trucks Band covering The Rolling Stones' "Sweet Virginia" with The Wood Brothers.  You can watch them at: https://www.youtube.com/watch?v=5XFHAtVOEkE and https://www.youtube.com/watch?v=xu4toGvFO_w .
The Tedeschi Trucks Band will be starting their fall tour on September 15, 2017.  Information about the tour is at: www.tedeschitrucksband.com .
Posted Aug. 14, 2017
'Mississippi John Hurt: Live at Oberlin College 4-15-65'  CD Release
By Steven Brodsky
Immediacy. The passage of 52 years since the 21 tracks on this CD were recorded matters not at all. These tracks haven't withered one bit over the years. This CD was released this month. John Hurt comes across in it in the NOW.  The much beloved artist, gentle of voice and spirit, congenial, and performing with a fingerpicking guitar playing style unlike that of any other artist recorded before him, is in very fine form on Mississippi John Hurt: Live at Oberlin College 4-15-65.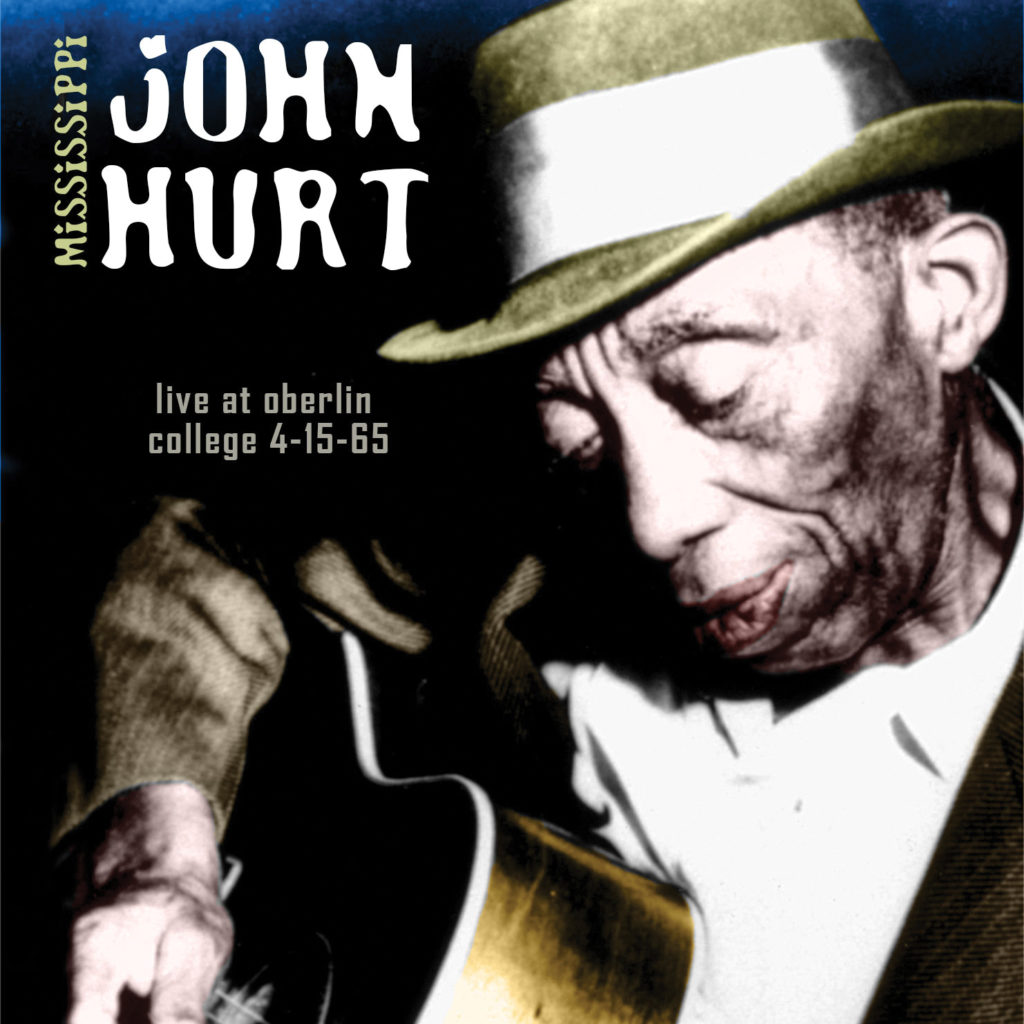 Intimacy.  The liner notes reveal that "nearly four thousand young college students and blues lovers" were in attendance at the concert.  You'd never guess, given the silence of the audience (broken only by appropriate moments of applause and a bit of Hurt-stimulated laughter).  Individually and collectively, there was no wall of separation between the artist and audience.  Connection to Hurt and his music was front and center.  Listening to the CD, I experienced the same.
What's in a name, for someone who had been known as Mississippi John Hurt? For starters, the surname wasn't a fabrication of a record company marketing executive. Given his affiliation with blues music, it wouldn't be unreasonable to presume that it that it might have been. He was born John Smith Hurt, probably in 1892 or 1893.  The "Mississippi" moniker was, though Hurt was indeed from Mississippi. — Delta Blues was a category that appealed to some record buyers. But, in actuality, Hurt's music was not typical of Delta Blues.  His voice was unusually soft. His guitar playing was unique, the product of his being self-taught and performing music that wasn't exclusively blues.
In the 1920s, he gained local recognition for performing in the area around his home town of Avalon, Mississippi.  He would sometimes perform with a white musician named Willie Narmour, a fiddle player.
John Hurt's connection to Narmour resulted in Hurt being discovered by a record company in 1928. Hurt traveled to Memphis and then to New York that same year to make recordings.  The recordings were important in that they expanded the reach of Hurt's music. For decades, those recordings made no significant difference to John Hurt's life. He would continue to be a laborer, mostly doing farm work in Avalon, until 1963.
The folk revival of the 1960s brought about major changes for John Hurt.  He was rediscovered by a musicologist who was familiar with songs that Hurt recorded in those 1928 sessions.  The song "Avalon Blues" provided a clue to his location. The town's name appearing in the song was a crucial element in the musicologist's successful search for John Hurt.  He found him in Avalon in 1963.
After rediscovery, John Hurt performed at music festivals (including the Philadelphia Folk Festival), concert halls on college campuses and elsewhere, and in the Greenwich Village folk club scene.  In 1963, he performed at the Newport Folk Festival (two years before Bob Dylan enraged some fans by going electric at the Festival).  Hurt's performance at the Newport Folk Festival catapulted his later-in-life music career.
John Hurt was a kind and considerate man.  Read biographical source material about him. You'll come to this conclusion. (I read some, including personal correspondence from John Hurt to others and accounts of people who knew him.) In a call tonight to one of our region's most respected cultural icons, I asked what this person's impression of John Hurt was. He had worked with John Hurt at least several times. "He was a sweet man," he said. No surprise.
John Hurt lived through difficult times for African Americans in the Deep South.  Yet, the angel of bitterness couldn't alight on his shoulders. The lines on his face were etched from years of toil working farm fields in the Mississippi sun and aging. They weren't those of bitterness. An abiding faith and Grace spared him from the ravages of unforgiveness. His goodness remained intact. It was at the heart of his music, a blessing for him when he was alive, and for us now.
Mississippi John Hurt passed away in 1966.
John Hurt: Live at Oberlin College 4-15-65 track list is: "Candy Man," My Creole Belle," "Make Me A Pallet On Your Floor," "Shake That Thing," "I'm Satisfied," "Salty Dog," "Nobody's Business But Mine," "The Angels Laid Him Away," "Casey Jones (Talkin' Casey)," "Baby, What's Wrong With You," "Lonesome Blues," "Rich Woman Blues," "Trouble I had All My Days," "C-H-I-C-K-E-N Blues," "Coffee Blues," "Monday Mornin' Blues," "Frankie And Albert," "Talking Casey," "Here I Am, Oh Lord Send Me," "Hard Times In The Old Town Tonight," "Spike Driver Blues."
Posted July 29, 2017
A Conversation With Pete Pryor, Associate Artistic Director of People's Light and Director of the People's Light production of 'Moon Over Buffalo'
By Steven Brodsky
Pete Pryor is an audience favorite. He's been the Associate Artistic Director of People's Light since 2010 and has won critical and audience acclaim for his work as an actor, director, and playwright. He is a Lunt-Fontanne Fellow, an Independence Fellowship Artist, and the recipient of four Barrymore Awards. Ken Ludwig's comedy "Moon Over Buffalo" is being staged at People's Light. The play will run from July 19-August 13, 2017. Pete is at the directorial helm. I like Pete and his work, and appreciate that he's finding the time to visit here with our readers during the busy rehearsal period for "Moon Over Buffalo."
Tell us about your early experiences with theatre as an audience member.
My mother took me to a production of "Peter and the Wolf" when I was around 5 years old. I don't remember this, but she tells me that I was very engaged and was shouting directions at the stage during the performance.
What was most appealing to you about theatre then?
The rehearsal process, the creativity of the group, and imagining the lives of others.
Has this changed for you over the years?
No, not really. What has developed and is still in a work in process for me, is the problem-solving quotient of the process.  Theatre is a collaborative art form. It is difficult sometimes for me to greet each new challenge as an opportunity but as the director it is up to me to create a space in which new opportunities can be realized.
Please talk about a few roles that were especially enjoyable and fulfilling to perform.
Most recently, Richard III. It was the second time I had a chance to play Richard and the first time for People's Light to produce that Shakespeare. That production was topically prescient inasmuch that it imagined Richard as a self-absorbed megalomaniac who destroyed anything that got in his way of becoming king.
Are there particular roles you'd be most interested in being cast for? 
I don't have those anymore. I am just happy to be working and feel blessed to be surrounded by people who work in this field.
"Moon Over Buffalo" is set in 1953 and depicts a fictional touring repertory theatre company. Have you ever done repertory theatre?
Nope. People's Light has a company of actors and you get to work with each other a lot and we get to know each other really well. But that is as close as I have gotten to Rep.
How important is your acting experience in directing plays?
I hope that it allows me to have the patience to realize how difficult is to execute and not asking anyone to do what I couldn't accomplish myself.
Among theatre professionals, what aspects of "Moon Over Buffalo" might have the most resonance? 
Aging Out. Becoming underutilized and underappreciated because of growing older. That, and the desire to be validated.
What are some of the main challenges in directing "Moon Over Buffalo"?
I am in tech now, so I will refrain from making any statements that confirm or deny any difficulties. Currently working on embracing new opportunities.
Audience reaction is an important aspect of this play. Unlike many of television's situation comedies, no laugh track is needed for this play. How much fun is the audience-actors feedback loop going to be for the actors?
The audience is the final character. The crowd is the last piece of information for the production. With an audience, you will know immediately if a comedy is working. A tragedy is a little more forgiving that way.
As a director, how do you ensure that the actors will have optimal comedic timing?
I know everyone in the show. I consider them all my friends. They are very funny people. I don't have to ensure that.
What do you most appreciate about the script for "Moon Over Buffalo"?
The script is tight. The dialogue moves and feels relevant to today even though it is set in the '50s. I also appreciate his (Ken Ludwig's) care for theatre. His tribute to theatre stalwarts like the Fabulous Lunts, who were, at a time, America's leading acting couple, is ultimately a love letter to old troopers everywhere.
What kinds of comments from attendees of the People's Light production of the play are you most looking forward to receiving? 
Hilarious! Incredible! I am going to buy tickets for my friends!
Further information about the People's Light production of "Moon Over Buffalo" is at: www.peopleslight.org.
Posted July 16, 2017
Leading Biologists' First – Time Experiences With Field Guides
By Steven Brodsky
We all have indelible memories of positive first-time experiences. If you are enamored of the natural world, there's a good possibility that some of yours are connected with your early use of field guides. Looking over The Cornell Lab of Ornithology's All About Birds Pocket Guide Series (recently released and published in collaboration with Waterford Press and the Cornell Lab Publishing Group), memories arose of my childhood and adolescent engagement with field guides. Field guides supercharged my interest in nature and the awe that I have for it. They increased my knowledge about animals I saw or hoped to observe.
My curiosity and enjoyment grew, when using them in the field and while thumbing their pages at home. — I'm grateful for the early exposure. Wondering about the first encounters of others with field guides, I posed some questions to some of the world's leading biologists.
I started with Keith Bildstein. Keith is the Sarkis Acopian Director of Conservation Science at Hawk Mountain Sanctuary. He has directed the training of Hawk Mountain's international trainees and has overseen its programs and research in conservation science since 1992. I learned that Keith was 20 when he got copies of A Field Guide To The Birds: Eastern Land and Water Birds by Roger Tory Peterson, and Birds of North America: A Guide to Field Identification (a Golden guide) by Chandler S. Robbins, Bertel Bruun, and Herbert S. Zim.
The occasion was Keith's enrollment in an undergraduate course on birds at Muhlenberg College. Keith said, "The books introduced me to a whole new world. A world that was full of birds, many of which I was unaware of." You can imagine how fascinated he must have been with the guides at that time (and their range maps!). Keith said, "Understanding what limits bird populations is my passion and my profession. It is what I do and what I always have wanted to do."
Keith went on to say: "I found the 'same-page' distribution maps in the Robbins guide to be particularly useful. Field guides are the backbones of effective bird study. First-class guides such as the Peterson and Robbins guides allow the uninitiated to quickly acquaint themselves with the region's bird life. The lack of a useful field guide can turn potentially profitable field experiences into a nightmarish guessing game. The Peterson and Robbins guides helped introduce me to the world of birds, and I am happy for that."
Twan Leenders, President of the Roger Tory Peterson Institute of Natural History, was asked similar questions. Twan is a biologist from The Netherlands. He specializes in animal ecology and conservation management and has researched birds, mammals and plants in the field. Twan is especially interested in amphibians, reptiles and tropical rainforest ecology. He is a former researcher at Yale University's Peabody Museum and has participated in many international expeditions. Twan is the author of two books on the wildlife of Costa Rica; his new field guide on the amphibians of Costa Rica was recently released. Twan is involved in ongoing research on endangered amphibian populations in Costa Rica and Panama.
As a photographer and wildlife artist, Twan's images have appeared in his and other books, as well in publications of the National Geographic Society, Dorling Kindersley, and elsewhere.
Twan said: "I was probably 15 or 16 when I acquired my first field guide, but grew up in a household with all sorts of field guides on the shelves, throughout the house. I had been taking out guidebooks from the local library since I was about 6." Twan's two first field guides were Trions Vogelgids by James Ferguson-Lees and Ian Willis, and Roger Tory Peterson's Vogelgids – the Dutch language version of Roger Tory Peterson's Birds of Great Britain and Europe. How did he use them? "First off, I wanted to identify the birds that lived in the woods around my house, but I also loved to try to draw birds using field guide images as models."
How did the Peterson guide affect him at the time? "I had the most wonderful time as a kid, admiring the beautiful images and trying to draw birds like Roger Tory Peterson did (I never got even remotely close!). I eventually ended up studying biology in college and have worked as a conservation biologist throughout much of my professional career. I still have these field guides and carry them with me every time I travel back to The Netherlands (I live in the U.S. now). It is a powerful experience to sneak off for a few hours here and there during family visits to go birding, with the book that inspired me to become a naturalist/biologist."
How has the guide been influential or impactful in Twan's life?
"I am now President of the Roger Tory Peterson Institute of Natural History, tasked to continue Dr. Peterson's important work to connect people with nature. Knowing that his amazing art and writing inspired me to become more observant and appreciative of the living world around us, helps me be a better steward of his legacy. In addition, the notion that I was inspired by a field guide half a planet away from my current life and career, to me is indicative of the power of nature study. It knows no boundaries and very much mirrors the lives of migratory birds, which span half the globe and enrich people's lives wherever they go."
Amanda Rodewald is the Garvin Professor of Ornithology and Director of Conservation Science at the Cornell Lab of Ornithology and in its Department of Natural Resources. She is a fellow of the American Ornithologists' Union and has published over 110 scientific papers and more than 50 articles for broad audiences, as well as several book chapters on ecology and conservation. Amanda was 20 when she first acquired a field guide. It was a Golden Guide. How did she use it? "First in the field as part of my ornithology class at the University of Montana where I was majoring in wildlife biology. After that, I used it when birdwatching for fun. I made notes in the guide about birds I had seen; it functioned as my life list of sorts."
How did the guide affect Amanda at the time? "Although I knew that there were many species of birds in the U.S., I was impressed by the diversity and beauty of them. I enjoyed keeping track of the birds I'd seen."
How was that first guide influential or impactful to Amanda? "It opened my eyes to how interesting birds are and shaped, in part, my decision to continue studying birds."
Wesley Hochachka is a senior research associate at the Cornell Lab of Ornithology. Wesley told me: "I studied zoology as an undergraduate because I thought that it would be great to find a career where I could spend much of my working time outside enjoying nature and watching birds. Several years, two more university degrees, and three moves across the width of North America later, I'm indoors most of the time and my work is mostly with virtual birds. I help to conduct analyses that we use to extract biological insights from the larger volumes of data collected by citizen scientists through projects coordinated at the Cornell Lab of Ornithology. Even though I can't be outside birding all of the time, I still think that I've got a great job, because I get to discover new information about birds, and help students and staff to do the same."
When asked about the age that he first acquired a field guide, Wesley said, "Hmm… I think that I was about 9 or 10, although the action was more 'discovered' than 'acquired,' because the book had been sitting on a shelf in my parents' house well before I picked it up and started to look at it." What was the title of the guide? "The book was The Birds of Alberta (I grew up in central Alberta)."
How did Wesley use The Birds of Alberta?
"I think that I read the entire contents of the book multiple times, browsing through small groups of species at a sitting. The book was short on pictures (it was originally published in 1958), but each bird species filled an entire page with a  distribution map, and text describing the appearance and vocalizations of each species of bird, its life history, and interesting facts about the species. The lack of pictures made the book hard to use while birding, so I largely ended up storing the information in my head for when I was outside watching birds."
How did the book affect Wesley at the time? "The biggest immediate impact, in retrospect, of having and reading the field guide was to change the way that I wanted to watch birds. I started out wanting to identify and read more about the birds that I had already encountered.
However, finding a book full of species that I had never seen made me want to go out and find these new species, and the information in the book started me on the path of understanding that species have habitat preferences, and migration routes and stopover locations… basically The Birds of Alberta started to teach me to put the birds that I was seeing (and hoping to see!) into the broader context of the environments in which they — and we — live."
How was The Birds of Alberta influential or impactful to Wesley?
"Longer term, finding and reading my first field guide reinforced my interest in birds and curiosity about how different species of birds live, which ultimately led me here to my job at the Cornell Lab of Ornithology."
Scott Weidensaul is a renowned field researcher and the author of over two dozen books on natural history. He is a highly gifted communicator, a popular lecturer, and an A-list interviewee on national media. His writing has appeared in many major publications, including Audubon and National Wildlife. He has been a Pulitzer Prize finalist. Scott is the author of the Peterson Reference Guide To Owls of North America and the Caribbean. (A prior interview with Scott for this column is accessible via a button on this page.)
What follows is Scott's response to the questions.:
"Unlike a lot of birders, my first field wasn't the Peterson guide (though my first book was How to Know the Birds, a kind of primer on how to approach bird identification that Roger Tory Peterson published in the 1940s).
My first bird guide was the so-called Golden Guide, written by Chandler Robbins and illustrated by Arthur Singer, which came out in 1966 as the first real competition to Peterson's classic. I probably was about 11 or 12 when I got my copy ($3.95 in those days, a few years after it was published), and I don't recall why I chose that over the Peterson guide — possibly because it included all the birds of North America, and not just the eastern or western regions, as did Peterson's. Or it may have been that the Golden Guide is what was available, since I don't have a recollection of buying it.
I used the heck out of it, though. It became tattered, thumb-worn, mud-stained and torn; it fell apart but I stitched it back together with heavy black thread. I scribbled in the margins, made pronunciation notes about unfamiliar names, and checked off my growing life list in the index, with dates and cryptic notations of where I saw each new bird. Flipping through it now, I see that the spring of 1978, when I was 19, was a banner season for me — dozens of new warblers and vireos.
Any field guide, when used, is a portal to a new world. My passion in those days was actually snakes, and my bible was a Peterson series guide to the reptiles and amphibians of eastern North America, so applying myself with the Golden Guide wasn't as transformative for me as it might have been for others. — I had field guides to wildflowers, shells, insects, fishes and anything else that grew or wriggled. But when I took a college ornithology class, I was pleased (and likely a little smug) to learn that the professor assigned the class to use the Golden Guide for our field trips. I suspect I made a less-than casual show of how hard-used my copy already was.
However, when I finally had a chance to meet Chan Robbins, the lead author, in 1984 at a book-signing, I was a lot more sheepish about the book's condition. Robbins was, even then, a legend in bird research and conservation — a renowned bird bander, the founder of the North American Breeding Bird Survey, and one of the first scientists who showed that DDT was destroying many of our most beloved birds. Everyone else in line had shiny new copies that the man with the flat-topped buzz cut hair was signing; mine looked as though I'd found it in a dumpster.
I handed Robbins the book, though, and he lit up like a light bulb. 'Now that's a book that's been used!' he said loudly, as he inscribed a note and signed the title page. 'That's a book that's been loved!' It's hard to know who was beaming more — me, taking back my book, or the author.
Chan Robbins died this past March at 98, still active as a biologist almost to the end. His work lives on (as does Wisdom, the female albatross he banded in 1956 that is still raising chicks on Midway Island in the Pacific), and the field guide he signed for me, with all of its dog-ears and mud stains, has pride of place on my shelf next to other, lesser books."
Posted June 20, 2017
'Freddy Fender: Lovin' Tex-Mex Style' CD Release
By Steven Brodsky
There was a time when Freddy Fender was regularly heard on country and pop radio stations. Some of his recordings were on the number one positions of the charts in both genres. He was a Grammy Award winner and a well-received guest on national television shows.
Freddy Fender was born Baldemar Huerta, in 1937, in a Texas border town. The son of migrant workers, Freddy experienced the hardships of the itinerant agricultural picking life firsthand.
Freddy was drawn to Tejano and other genres at a young age. At age 10, he performed on KGBT radio in Harlingen, Texas. He sung "Paloma Querida."
Freddy served in the U.S. Marines for three years. After his discharge, he achieved recognition as a singer of Spanish translations of rock and roll and other songs. Two of his recordings reached the number one spot on the charts in Mexico and South America. In 1960, his release of "Wasted Days and Wasted Nights" took off in the U.S. Unfortunately, this national breakthrough was soon tamped down by a prison sentence. He served nearly three years of a five-year sentence in a very tough Louisiana prison for possessing two marijuana joints. His release was followed by a long period of time working various jobs, with music as a part-time endeavor.
While working at a car wash, a record producer heard him singing and recognized his voice. Freddy was handed the producer's business card. That unlikely encounter resulted in Freddy returning to recording and the launching of his phenomenal music career.
Freddy didn't have high hopes for an overdubbing of vocals in English and Spanish that he did in 1974. As quoted in the notes for Freddy Fender: Lovin' Tex-Mex Style, he said in an interview: "I was glad to get it over with, and I thought that would be the last of it." The song was "Before the Next Teardrop Falls." The song shot to the top of a number of national charts.
Twenty songs are on Freddy Fender: Lovin' Tex-Mex Style: "Before The Next Teardrop Falls," "Mathilda," "Lovin' Cajun Style," "What I'd Say," "Sweet Summer Day," "Silver Wings," "Running Back," "Enter My Heart," "Going Out With The  Tide," "Baby, I Want To Love You," "Wasted Days and Wasted Nights," "The Rains Came," "You'll Lose A Good Thing," "Almost Persuaded," "I'm Leaving It Up To You," "A Man Can Cry," "Wild Side of Life," "She's About A Mover,"  "Crazy Baby," and "The Girl Who Waits On Tables." 
Much of Freddy Fender's life was hardscrabble. Bet you didn't know that he lived, at one point, in a chicken coop, literally. He performed at some very rough-and-tumble venues before reaching prominence as a recording artist and performer. He was challenged by problems with drugs and alcohol. He encountered and overcame the binds of discrimination. Yet, his music continued to convey an artist's tender and empathetic heart. This newly released CD is acquainting and reacquainting listeners with the quiver-in-the-voice expressiveness of Freddy Fender.
Posted 6/14/17
Steven Brodsky hosted a radio show for 3 and a half years. The show focused on coverage of entertainment, the arts, and all manner of culture. He is widely known for his many live on air interviews with guests such as: Rodney Crowell, Charlie Louvin, Richie Havens, Eric Whitacre (composer, conductor), Solomon Burke, Janis Ian, Percy Sledge, Billy Joe Shaver, Jack LaLanne, Bruce Morrow (Cousin Brucie), Jett Williams (daughter of Hank Williams), Pulitzer Prize-winning authors, curators, historians, scientists, and newsmakers. He welcomes email at Steven Brodsky.