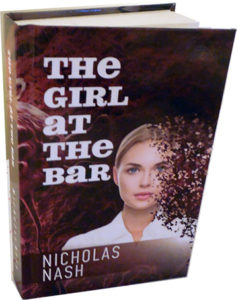 By Edna Snidebottom
Nicholas Nash begins this suspenseful tale with a chance meeting at a bar which turns into a one night stand and then so much more.
Ragnar Johnson, a recently fired stock broker, meets the beautiful Rebecca, a researcher looking for a cure for cancer. When Ragnar awakes and finds Rebecca gone, he assumes she didn't want anything more than a chance meeting until he is contacted by the police.
Under suspicion for her possible murder, Ragnar starts to use the skills he acquired while working on Wall Street to unravel the mystery.
He will meet Rebecca's mentor Dr. Steven Gupta, her boss Julia Fitzpatrick (who once was named James before becoming a woman), Nancy Mulligan, partner and once lover of James, Gustav Henrikson (the seemingly unemotional co-worker of Rebecca) and Christy Cassidy, the youngest member of the research team.
These suspects along with the head of a rival cancer research company Dr. Matheus Faust and Rebecca's playboy fiancé Iain Thorpe give us plenty of red herrings but we also have Ragnar himself. Suffering from a bipolar condition, recently having lost his job under the suspicion of wrongdoing and showing signs of a quick temper, our hero even doubts himself.
But it is the pursuit of what happened to Rebecca that seems to give Ragnar purpose. He's always one step ahead of the police and his persistence keeps this mystery moving along at a nice pace. Ragnar also discovers that a noble endeavor like finding a cure for cancer can be as competitive and ruthless as any other profession.
Even though I did guess the psychopath early on, there is a very nice twist at the end I hadn't seen coming.
This is Nicholas Nash's first mystery/thriller novel but I'm sure it won't be his last. I hope his next offering will contain even more knowledge of the financial world in which he works.
'The Girl At The Bar' can be purchased from Amazon, Barnes and Noble and Kobo, among other sites.